Vinyl records have really made a huge comeback in recent years. So many people love collecting records, and it has turned into a bit of a hobby for many enthusiasts.
To take care of your beloved record collection, you need to make sure that you're storing them right. Improperly storing records can lead to damage, and this is going to be very unfortunate.
The most important thing to be aware of when it comes to record storage is that records shall be stored standing up. Or at least reasonably vertically. Storing records horizontally on top of each other in a stack can actually damage the records.
Thankfully, there are many cool, safe, and affordable ways for you to store your vinyl records. Today you will be able to take a look at 11 cool and affordable ways to safely store vinyl records.
All of these products are going to be high-quality, and they will work nicely for your needs. There will be a mix of different options for you to consider, so finding the right fit for your situation should not be difficult at all.
Why not start with my personal favorite and the one I am currently using myself.
1. Ikea KALLAX Shelving Unit

This extremely versatile shelf is my favorite furniture for vinyl storage. It can hold a pretty decent record collection and it ticks all the boxes for safe vinyl storage. You can store your records standing upright with a bit of air around them to breath and so on.
In addition to being a great shelf for record storage, it also makes a perfect stand for your turntable or record player. The weight of the records in addition to the weight of the shelf itself will make it quite stable and the top of the shelf is perfectly sized to hold a turntable.
This shelf comes in many different colors and sizes. It is easy to assemble and looks very nice with its minimalistic Scandinavian design.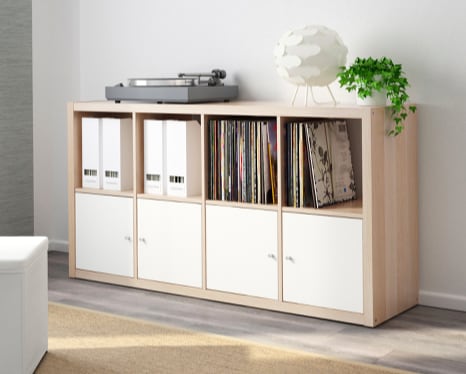 And if you want to use the shelf for other purposes than storing records, there is an endless list of other ways to use this shelf. Ikea has a big selection of drawers, shelves, boxes and other inserts that can be used to fine tune it for every need. You can even hang it on the wall if you like.
Click here to check price on Amazon.
2. Chalkboard Vinyl Record Storage Wooden Crate
This is a very cool and affordable method for storing your vinyl records. You have likely seen many people storing their records in crates before. This is one of the most common solutions for record storage. It actually works fantastically for those who only have small record collections.
You should be able to fit around 75 vinyl records in this crate that is being shown here. That is a sizable number of records, making this a decent option for those who have quite a few records. You can also choose to buy several of these and stack them. They stack on top of each other very easily and you'll be able to keep your records completely safe.
Of course, one of the interesting things that helps set this crate apart from other options is the included chalkboard. This is going to come with a chalkboard that is attached to the crate itself. It also comes with one included chalk marker and dust chalk. You can write on the chalkboard or create some type of decorative drawing.
People who are a little bit creative will love this option. It allows you to showcase your personality and is going to look good in many different types of rooms. Consider this if you think it is going to look neat in your home or if you simply enjoy the artistic appeal. It should work out very nicely.
Click here to check price on Amazon.
3. Novogratz Concord Turntable Stand
If you're more interested in finding a piece of vinyl records furniture, then this option is going to suit you well. This is a turntable stand that is going to allow you to house your record player and records in one spot. This is not the biggest stand in the world, but it can still hold quite a bit. You'll be able to fit your record player and several of your favorite records.
The stand has four little cubbies toward the bottom that are perfect for housing records. You will be able to store the records vertically in the cubbies, and they will be very safe. It's a convenient spot to be able to store them when you want to have quick access to your favorite records. This is a practical setup that makes sense if you're in need of a place to put your record player, too.
You will need to assemble this unit when you buy it. Overall, this is an easy piece of furniture to put together. It really isn't any more complicated than putting a traditional bookshelf together. You'll be able to have this up in no time, but do note that it is recommended that two adults assemble this unit together.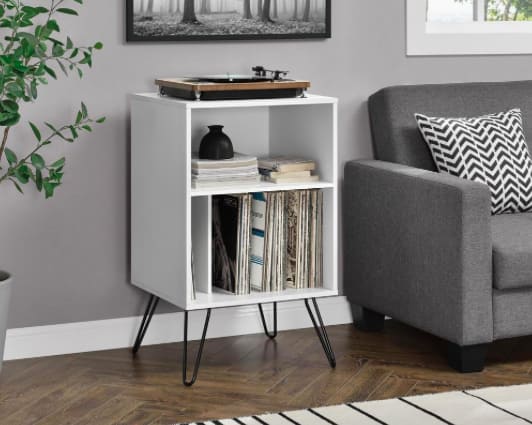 It comes in a few different color options, too. You will be able to choose the traditional brown oak, walnut, white, or white with blue. Also, this unit is available in different sizes both with drawers and without drawers. Just choose whichever option will work best for you.
Click here to check price on Amazon.
4. KAIU Vinyl Record Storage Holder
This is another option that is going to work out best for those who have smaller record collections. It is a record storage holder that can stack up to 50 albums. The way that it is designed makes it practical for both 7" records and 12" records. You won't have any problems fitting the odd 10" record in this holder, either.
If you like the idea of a minimalist record storage option, then this is the one for you. It looks pretty nice overall and is going to fit perfectly next to your record player. Your stacked records will stay in place, and you will not have to worry about them any longer. It's an easy way to keep your collection organized while also having the records easily accessible.
Assembling this vinyl record storage holder is not going to be tough at all, either. All of the included parts fit together easily, and it feels very strong. It may not look as fancy as some of the other items being shown on this list, but it is very practical. You're going to love how cost-effective it is, too.
You will also enjoy that it comes in several different colors. You can choose to purchase this in modern black, modern white, walnut, vintage brown, clear, or natural. All of the colors look really good, so you should just choose the option that goes best with your furniture. This is a highly recommended vinyl records storage stand.
Click here to check price on Amazon.
5. Classic Acts Vinyl Record Album Storage Case
If you are very serious about protecting your vinyl records, then this vinyl records storage case is going to be a very appealing option. This is a very heavy-duty case that will keep your records safe from harm. It can hold up to 75 records and has been designed to prevent records from coming to harm. It is strong both inside and out.
The outside of this storage case is made out of aluminum. Even if your storage case takes a few bumps, your records are going to be perfectly fine. This is a sturdy case that can take a beating. It even has an airtight lock to prevent anything from getting into the case and hurting your records.
On the interior, you can count on the records being kept safe by the plush foam roof. It also has felt sides that will prevent any issues when moving your record storage case around. Your records are going to be safe from dust or any other type of debris when they are locked away inside of this case. They will also be protected from impacts or falls.
If you are going to be moving your record collection around, then having a case like this is a great idea. This is a perfect solution for someone who needs to move their record collection to a new house. Your records will be safe while being toted around, and you won't have to worry. It's even practical for people who just want to store their records normally, as long as you're comfortable with not being able to display the records.
Click here to check price on Amazon.
6. Foremost 327609 Storage System Espresso
This is a solid wood cube that is going to work fantastically to help you to store your vinyl records. It is not advertised as a specific vintage vinyl storage option, but it works really well. The cool thing about this is that you can buy several of them and stack them up. They can be aligned in just about any formation that you need, making it a practical solution for people with large record collections.
One of these cubes is not going to be overly expensive. It can become a bit pricey when you need to purchase multiples, though. If you have hundreds of records that you need to store, then this is still going to be a good option. You just need to figure out how many of them you will need.
The frame of these cubes is made out of solid wood. This makes it really sturdy, and you will be able to count on these lasting for a long time. They should look really nice in your home, too. Depending on how you configure everything, it can make it very practical to display your albums in a visually impressive way.
The assembly of these cubes is going to be very simple as well. Getting everything installed and set up may take a bit of time, but it is never going to feel like an arduous process. It is pretty straightforward and is not confusing at all. For some people, this is going to be the perfect option for storing records.
Click here to check price on Amazon.
7. Victrola Vintage Vinyl Record Storage Carrying Case
Those who want a fun way to store a few records will be interested in checking out the Victrola vintage vinyl record storage carrying case. This is also a perfect way for you to move your records from place to place. If you are going to be taking records with you somewhere, then this carrying case will keep your albums safe. It can fit over 30 records, so it's pretty practical to use.
If you want to keep your records safe from dust and getting scratched, then this vinyl records storage box/case is a great buy. You can tuck your records away in the carrying case and put them away when they're not in use. It will be good for holding 33s, 45s, and 78s. It even has a sturdy handle that makes carrying it around that much easier.
One of the cool reasons to buy this carrying case instead of some other options is that it is quite stylish. You can purchase this case in many different colors and styles. It comes in colors such as turquoise, black, and brown. There are also designs such as the Union Jack, tie-dye, and a retro map.
Click here to check price on Amazon.
8. 2-tier Modern Matte Black Lattice Style Metal Turntable and Vinyl Record Storage Organizer Table Stand
Anyone who wants something simple that will store both a record player and a small collection of records will enjoy this. This is capable of holding your record player as well as sixteen vinyl records. This has a matte black lattice design and should make for a pretty good addition to any living room. It's very stylish and will fit in with many different décor styles.
It makes use of a two-tiered design to make efficient use of space. The record player is meant to go on the top of the unit. The lower part of this table stand has slots that will hold your vinyl records. You should have no problem fitting sixteen of your favorite vinyl records down there.
This isn't going to be ideal for people who own a lot of records, but it is an affordable option. This will not cost you too much money, and it is a very logical solution. People like this table stand because it makes it easy to grab your favorite records and play them. You may even want to pair this option with some of the other ones mentioned above.
Click here to check price on Amazon.
9. Darla's Studio 66 Vintage Stained Turntable Stand
This is a turntable stand that is going to help you to store several records. When you compare it to the option above, you will see that there is a lot more space. There are two shelves and each shelf should be able to house around 60 records. This is going to be a much better option for people who own quite a few records.
It may be a fairly simple looking turntable stand/shelf, but it does look really nice overall. It has a really beautiful dark stain that will look at home in many people's livings rooms. If you have dark furniture, then this is going to fit in very nicely. Your record player will fit on top of the turntable stand, and it will be easy to make use of it when you're in the mood for some music.
This is a product that is handmade in the USA. It even comes fully assembled, so you do not have to mess around with anything. If you are a person who really dislikes having to assemble things, then this might be one of the best options on this entire list. It'll provide you with a nice place to put your record player while also giving you an accessible spot for tons of records.
Click here to check price on Amazon.
10. Odyssey CLP200P Carpeted Pro Lp Case with Recessed Hardware for 200 Vinyl LPs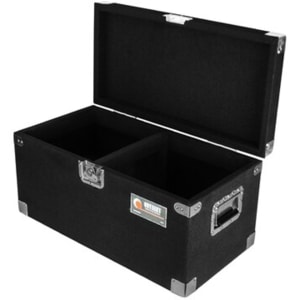 People who own large record collections may be interested in this vinyl record storage case. You will be able to hold up to 200 vinyl records in this unit. This is perfect for anyone who needs to move a large collection. Some people like to use these as regular storage options as well due to the great protection that they provide for the records.
This storage case has a fully carpeted exterior lining. This helps to keep your records safe when you are moving them around. It also has a locking drawbolt latch that is easy to use. The flat steel corners keep things safe, and they protect the case when it is accidentally bumped into something like a wall.
The lid of this case is fully detachable. You won't have any trouble accessing your records when you want to listen to them. On the sides, you will see that there are soft grip spring-loaded handles. These make carrying the case around a breeze, and they are very sturdy.
Overall, this is an ideal purchase for huge vinyl record collectors. It may not be as practical for those who want to display their records, though. Whether you will want this or not depends on your needs. It is definitely among the best storage options for protecting your records.
Click here to check price on Amazon.
11. Way Basics 2-Shelf Vinyl Record Storage Cube and LP Record Album Storage Shelf, Natural
Finally, we have one of the most practical vinyl records storage options. This is a simple two-shelf vinyl record storage solution. The two shelves will be able to store many of your vinyl records. Each shelf actually has a maximum load capacity of 30 lbs, so you can see that they're pretty sturdy.
You should be able to fit up to 85 albums on each shelf. This will depend on certain factors such as how thick the packaging is and whether it is a double LP or not. Regardless, you'll be able to fit a lot of records when using this shelf. It is very affordable, too, so it is one of the easiest ways for someone to get the record storage solution that they need.
This is an eco-friendly shelf, too, as it is made out of recycled paperboard. This is a completely non-toxic substance that is going to work well for your needs. If you care about the environment, then it will be good to know that this is a good option. It's also very simple to assemble, so you won't be getting any headaches trying to get this shelf put together.
You can even place your record player on top of this shelf if necessary. Many people wind up buying several of these vinyl records storage shelves and placing them near each other. Depending on how many records you own, this might be the most practical solution available to you. It's definitely very cost-effective and comes highly recommended.
Click here to check price on Amazon.