Best Affordable Amplifiers for Turntables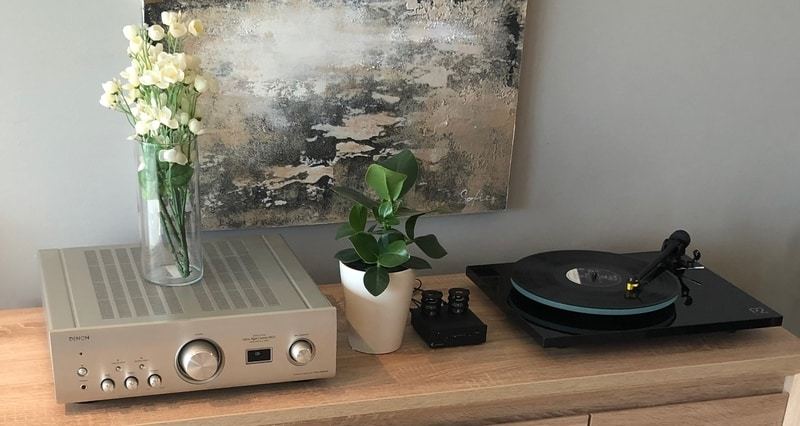 In this guide, we'll look at affordable stereo amplifiers that perfectly match the sound and spirit of vinyl records.
Vinyl records and turntables are loved for their ability to reproduce warm, smooth and rich sound. When we pick an amplifier to use with our turntable, it is ideal to look for these qualities in the amplifier as well.
All recommendations in this guide are quality amplifiers that are designed with a strong focus on high-fidelity sound. They are carefully picked for vinyl enthusiasts.
How to choose an amplifier for your turntable?
There are essentially two routes we can take when we choose an amplifier for our turntable.
The first option is to choose a stereo amplifier that is made for music enthusiasts and designed with a strong focus on sonic performance.
An amplifier that put sound quality and clean power over flashy digital features.
A traditional stereo amplifier where the star of the show is 2 channels of high quality amplification and high-quality, beautiful sound.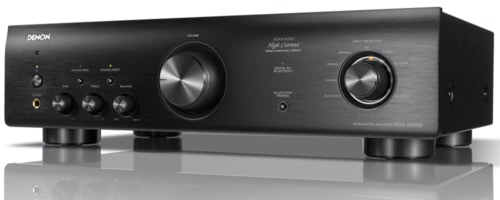 The other option is to choose a multi-channel AV receiver that is designed with a much broader focus and often emphasis features over sound quality.
Examples of this are 5.2 or 7.2 surround receivers that support every digital surround sound format you can think of. And includes many channels of amplification circuitry that can drive a gazillion speakers.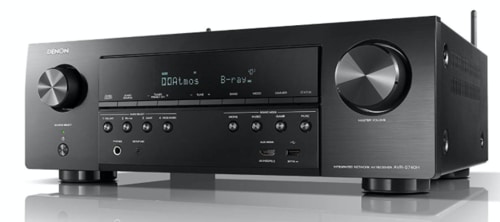 The quality of the important amplification circuitry will be many times higher in a traditional 2-channel stereo amplifier compared to an equally priced multi-channel A/V receiver.
So will the level of clean power and sonic nuances that can be enjoyed with a stereo amplifier.
Why?
An AV receiver needs to support multiple surround sound formats that force the manufacturer to spend money on costly licenses. It also includes components for multiple amplification channels that we will never use for vinyl music listening.
This means that the manufacturing budget for a multi-channel AV receiver needs to be spread thin on a many parts and licenses. With the result that components and circuitry critical for good sound will be of low cost and quality.
A tradition two-channel stereo amplifier, on the other hand, consists of much fewer parts and licenses. So the manufacturer can focus their spending on quality components that are critical for good and powerful sound.
The power supply and amplification circuitry will therefore be of much higher quality in a stereo amplifier compared to a similarly priced multi-channel AV receiver.
And this makes a big difference.
The result will be much better sound quality. Deeper and tighter bass. More punch. More natural mids. More detailed highs. In essence, a much better and more engaging music listening experience.
If you don't have strong reasons to choose an A/V receiver, I would recommend that you focus on 2-channel stereo Hi-Fi amplifiers. For the best sound and for the most enjoyable vinyl listening experience.
What features to look for?
Now that we have (hopefully) agreed on a traditional stereo amplifier over an A/V receiver, let's have a brief talk about features.
Fewer features and fewer channels are preferable because it enables the engineers to put more money into higher quality parts in key areas of the design.
There are, however, a few features that are nice to have. Even for vinyl spinners.
A great amplifier for vinyl should have a built-in preamp and a phono input for versatility. This makes it possible to connect turntables without a preamp built in without the need for a separate preamp.
Wireless Bluetooth is also a great feature to include. So we can stream music from a mobile phone or PC. Even vinyl enthusiasts gets tired of spinning vinyl sometimes. An alternative option is to buy a separate Bluetooth receiver that connects to the amplifier.
Digital inputs and a quality DAC are also nice to have so that we can connect digital sources through a cable for high-quality digital sound.
An alternative is to buy a separate DAC that handles all the digital stuff.

Tone Control is also nice to have in my opinion. Personally, I like to bump the bass a notch when I listen to guitar rock and so forth.
A source direct or pure direct option is something to look for too. It let us bypass tone controls and shots down digital circuitry for the purest listening experience.
Power
When picking the best amplifier for your turntable, we want to pick an amplifier that can power many types of speakers. So we are free to swap speakers without having to look for a new amplifier.
The first thing many home stereo enthusiasts often look for when shopping for an amplifier is its power ratings. How many Watts per channel it can put out.
But these numbers are often miss-leading. The quality of an amplifier should not be measured by its power output ratings at all.
A quality 65 Watt amplifier can sound much better under demanding conditions than a cheap 125 Watt amplifier. The methodology and quality of the amplifier design has a lot to do with it.
It is therefore key to look behind the numbers and consider the methodology and quality of the amplifier design. And not simply rely on the numbers from the spec sheet.
Budget
A healthy budget for an affordable stereo Hi-Fi amplifier that will last for decades is $300-$500.
The premium home stereo manufacturers place their entry-level "audiophile" amplifiers in the $300 – $500 price range. So this is a perfect budget to start with.
If you are looking for extraordinary audiophile sound quality, then you might up the budget from $500. But that won't be necessary for most vinyl spinners.
Recommended Amplifiers
Here are the amplifiers I strongly believe are the two best buys today.
Both come with a few handy features, but the star of the show is 2 channels of high-quality amplification for beautiful sound.
These will power most speakers with ease. And they are more than good enough to accompany your turntable in the long term.
Because they are the most affordable amplifiers from Denon's and Yamaha's high-end amplifier product line, they benefit from technology developed for their bigger and more expensive brothers.
These amplifiers offer very high value for money.
Denon PMA-600NE (Top pick)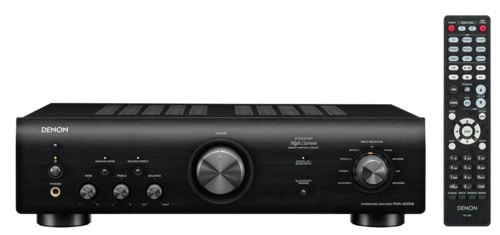 Denon has an audiophile heritage that's run almost 100 years back.
And with their PMA amplifier series, they blend traditional amplifier design with state-of-the-art technology in a way that might be unmatched in the industry today.
Their most budget friendly model in their Hi-Fi amplifier range is the Denon PMA-600NE.
When Steve Guttenberg (Audiophile legend) tested the PMA-600NE, he was very impressed with it straight away. Even though he first thought it was much more expensive than it actually is. Watch his vide below. It is a great one.
The sound of the Denon PMA-600NE is warm and muscular. Which has been the character for Denon amplifiers as long as I can remember. They stay true to their heritage.
It has a perfect list of features in my opinion.
I use the PMA-600NE's bigger brother, the Denon PMA-1600NE, for my daily vinyl spinning. And I love it.
When Denon decided to bring this slightly slimmed-down model to the market, for a fraction of the price, we should absolutely pay attention.
The PMA-600NE is a fantastic amplifier for the price.
Power
2 x 70W
Analog Inputs
4
Digital Inputs
3
Phono Input
(Preamp)
Yes
Bluetooth
Yes
Tone Control
Yes
Headphone output
Yes
PROS
– Great value for money
– Bluetooth
– Awesome sound
– Traditional Hi-Fi design
– Elegant look
– Source direct option for the purest signal path
CONS
– No USB digital input
The Denon PMA-600NE is my top recommendation for an affordable amplifier for turntables.
Click here to check price on Amazon
Yamaha A-S301BL (Runner-up)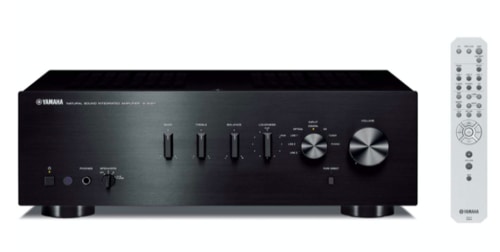 To stay true to their audiophile heritage, Yamaha has a line of natural sounding traditional Hi-Fi amplifiers too.
The Yamaha A-S301BL is the entry-level model from the line and another great option for an affordable amplifier for vinyl.
It essentially has the same specs and features as the Denon PM-600NE, except for built-in wireless Bluetooth. So you will need an external Bluetooth streamer for this one. Which might be fine as many Hi-Fi enthusiasts like to keep their wireless and digital stuff separate.
The benefit of keeping the digital and wireless stuff separate is that you won't need to replace the whole amplifier when the digital protocols get outdated and are replaced with next generation technology.
The Yamaha A-S301BL has received great reviews and is a respected amplifier for those that fancy great powerful sound.
Power
2 x 60W
Analog Inputs
5
Digital Inputs
2
Phono Input
(Preamp)
Yes
Bluetooth
No
Tone Control
Yes
Headphone output
Yes
PROS
– Great value for money
– Great reviews
– Awesome sound
– Traditional Hi-Fi design
– Pure Direct mode for greater sound purity
CONS
– No Bluetooth built-in
– Needs optional Bluetooth adapter
The Yamaha A-S301BL is my runner-up in this review of great amplifiers for turntables.
Click here to check price on Amazon
Conclusion
The two amplifiers reviewed above are two great and quite similar amplifiers. Both are awesome options to hook up to a turntable.
They tick more or less all the boxes for a dream affordable amplifier for vinyl and analog music lovers.
For my money, I would go with the Denon. The built-in Bluetooth is convenient, and I generally like the design and sound character of Denon better than Yamaha.
But the choice is hugely down to personal preference. You won't go wrong with either of these.
If the amplifiers recommended in this guide is are too expensive for your budget, there are cheaper options worth checking out as well.
The Sony STRDH190 seems to be the best and most popular pick in the $100 – $200 price range.
Related Questions
What is the difference between an amplifier and an integrated amplifier?
Amplifier (Wikipedia) is a general term for electronic gear that increases the size and strength of a signal.
And integrated amplifier is a home stereo amplifier that combines a pre-amplifier and a power-amplifier into one unit. When we say amplifier in the context of home stereo we usually mean integrated amplifier.
In some high-end stereo systems, the amplifier is split in two units. A pre-amplifier that takes care of the volume control and source selector. And a power-amplifier that boost the signal so that it can drive speakers.
What is the difference between an amplifier and receiver?
Originally, receiver usually meant amplifier with a radio tuner built-in.
Nowadays, we usually call a 2-channel stereo amplifier for amplifier and a multi-channel surround amplifier for a receiver.
So an amplifier is primarily for music listening. And a receiver is primarily for watching films with surround sound.
A stereo amplifier is sometimes called receiver as well so this is a bit confusing. The terms are somewhat used interchangeably.
What is best? Denon, Onkyo, Sony, Yamaha or Pioneer?
These are all great brands that have made very good products for many many years. The key is not to choose a particular manufacturer, but to choose the specific product that best fits your needs.
Do expensive amplifiers sound better?
You usually have to pay more for better sounding amplifiers. There can be best buys within a certain price-point, but if we want to upgrade to significantly better sound it will usually need a bigger budget.
The increase in sonic performance will, however, be smaller and smaller for every extra dollar we spend as we approach higher and higher price points.
Can I use 5.1 , 7.1 and 9.1 surround receivers with only 2 speakers?
A surround receiver will play stereo music and work perfectly fine with only two speakers connected.
But if you are going to use only two speakers, you will get more value for money if you buy a 2-channel stereo amplifier rather than a surround receiver.