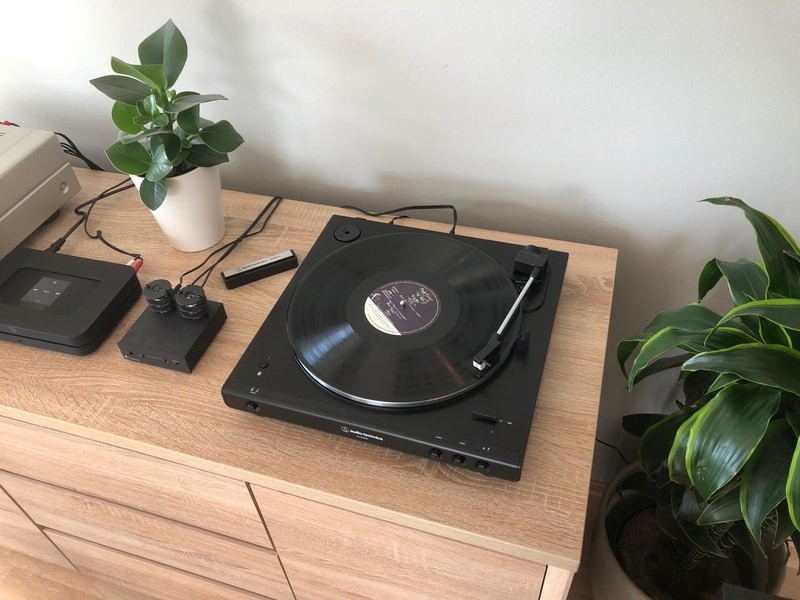 I have had my Audio-Technica AT-LP60X for a few months now. And I thought it was time to give it an honest review.
The Audio-Technica AT-LP60X is the cheapest turntable that I own. But it is probably the one that offers the highest value for money.
It is a real bargain, in my opinion.
The AT-LP60X comes in many variants with different features. I chose the AT-LP60XBT-BK which is the Bluetooth variant in standard black color. It is probably the most popular pick of the bunch.
VERDICT
The AT-LP60X is a great entry-level turntable that punches far above its weight class. It basically has no competition in its exact price range. It is fully automatic and easy to use. Considered the affordable price, it sounds very good, also in Bluetooth operation.
PROS
– Best in class
– Affordable price
– Easy to use
– Available with Bluetooth
CONS
– Feels a tiny bit plasticky
– Its compact design not for everyone
PRICE
Click the links below to check current price on Amazon
AT-LP60XBK (Standard version)
AT-LP60XBT (Bluetooth version)
AT-LP60XUSB (USB version)
AT-LP60XHP (Headphones version)
The AT-LP60
The AT-LP60X is Audio-Technica's entry-level turntable in its latest iteration. Before it was upgraded in 2019, its model description didn't include the X at the end. Before 2019 it was sold as the AT-LP60.
The upgrade in 2019 included minor tweaks and improvements, such as a redesigned tonearm to improve tracking and reduce resonance, and an external power supply that reduces signal noise.
The AT-LP60X could be the best-selling turntable in the world. At least if we only consider turntables of good quality, and ignore all the crap that is sold in trend shops for $60 or so.
It has received very good reviews from owner and Hi-Fi critics. During all my research and writing about turntables I heard and read so many good things about the AT-LP60X that I eventually had to buy one and test it myself. And considered the low price, it has definitely impressed me.
One huge upside with choosing an AT-LP60X over a $60 record player of questionable quality is that your records will be totally safe. The AT-LP60X doesn't have a reputation for destroying records like some cheaper all-in-one record players have.
Design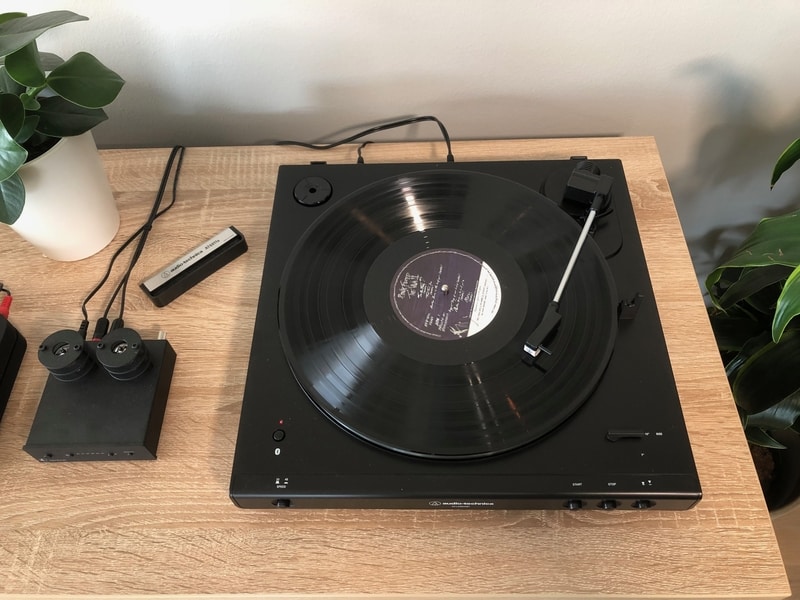 The AT-LP60X has a square and compact layout. It looks tidy and quite elegant. It isn't flashy or screaming for attention.
It's untraditional square layout might not be for everyone, but it makes for a smaller footprint which is nice.
The standard version can be had with several different front panel colors.
If you are looking for an entry-level turntable with Bluetooth that has a more traditional layout than the AT-LP60X, then it might be worth to check out the Sony PS-LX310BT. Just as the AT-LP60X, it sounds excellent for its price and has received very good reviews.
You can also check out my complete list of recommended turntables from budget to high-end.
But I think the AT-LP60X looks quite nice. Most people would probably guess that I have paid more for it than I actually have.
If you wonder why I have removed the dustcover in all the pictures, that is because turntables sound better with the dustcover off. Removing the dustcover increase stability and makes the turntable pick up fewer vibrations.
So aways play records with the dustcover off.
Specs and Features
The AT-LP60X is a fully automatic turntable. With the push of a button, it starts up and place the tonearm at the beginning at the record. When the record ends, the tonearm automatically return to its resting position.
So it is very easy to use and operate. And you don't have to worry about being distracted and leaving the needle endlessly spinning in the inner grooves. When the record is finished, it automatically return the tonearm and shuts off.
It comes with a built-in preamp, which means that it outputs a LINE-level signal and can be connected to all receivers and powered speakers. Also those without a PHONO input.
It plays 33 and 45 RPM records and it has a replaceable stylus (needle) that can be replaced for a low cost when it is worn out. It will usually take about 1000 hours to wear it out.
FEATURES
Origin
Japan
Drive
Belt
Operation
Automatic
Preamp
Yes
Speed
33 and 45 RPM
Bluetooth
Optional
USB
Optional
Cartridge
ATN3600L
Stylus
Diamond
(Replaceable)
The AT-LP60X comes in four versions.
The AT-LP60X is the standard and most affordable version. It doesn't include Bluetooth, so it must be connected to a receiver or powered speakers with a traditional signal cable.
The AT-LP60XBT is the Bluetooth version. It includes Bluetooth functionality which makes it possible to connect it wirelessly to receivers, powered speakers or headphones that are Bluetooth compatible. It can also be connected with a signal cable, just as the standard version.
The AT-LP60XUSB includes an USB output that makes it possible to rip records.
And lastly, the AT-LP60XHP that has a headphone output with volume control and comes with headphones included.
Currently, there isn't a model that includes all the features, so you have to select which options that are most important for you. If you need any. The standard version is also great and makes it possible to get into vinyl very cheaply.
Setting Up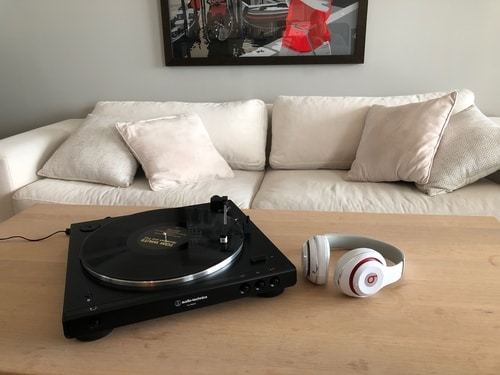 When you unbox the AT-LP60X, it is almost ready to go. The only thing you have to do is placing the belt on the pulley and that's it. The instructions show clearly how you placate belt.
The AT-P60X has a PHONO/LINE switch on the back. It has to be set to LINE if you are using a receiver or powered speakers without a PHONO input. In this setting, the preamp that is built into the AT-LP60X will be enabled.
If you set the switch to PHONO, you will need to use the PHONO input on a receiver or powered speakers with a preamp built-in. In this setting, the preamp that is built into the AT-LP60X will be bypassed.
If you have the AT-LP60XBT and want to play music wirelessly with Bluetooth, let's say to wireless headphones, then you first have to set both devices in pairing mode so that find each other. When the turntable and headphones are paired, you can enjoy playing records wirelessly.
I have played records with my AT-LP60XBT to my wireless Beats Studio headphones. The pairing process was smooth and the sound is quite nice.
Sound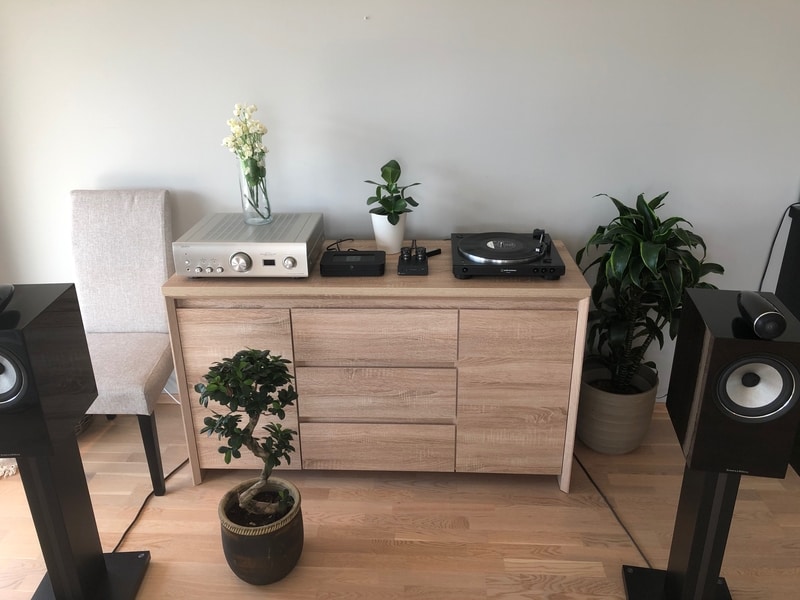 I have spent a lot of time testing the sound of my AT-LP60XBT and compared it against my more expensive audiophile turntable.
I have a highly upgraded Rega Planar 2 that cost about 10 times more than the AT-LP60XBT that I have used for this comparison.
If we considered the low price, I think the AT-LP60XBT sound surprisingly good.
Even tho it is one of the lowest priced turntables on the market (if we ignore the crap), it plays music in a way that I think will satisfy most casual vinyl spinners that aren't super picky about sound quality.
And I think you will need speakers that are many times more expensive than the AT-LP60X before the turntable becomes the weak link in the system.
That said, the AT-LP60X is still an entry-level turntable, and it won't sound as good as audiophile turntables. Which isn't expected either.
Compared to my Rega Planar 2, the AT-LP60XBT lacks a bit of openness, details and snap in the bass. The music sound a little 'boxed in' when I use the AT-LP60X compared to the more expensive Rega.
We don't get audiophile sound from the AT-LP60X. But we get very good sound for the price. Impressively good sound for the price, I will say.
I have also done a bit of AT-LP60XBT testing using my Beats Studio wireless headphones.
And again, I think the AT-LP60XBT sounded quite good. It was a quite enjoyable experience.
For those that are worried about Bluetooth ruining the sound, I don't think that is the case for entry-level turntables. You will need more expensive gear before the limitations of the Bluetooth protocol starts to reduce the sound quality noticeably.
Recommended Speakers
If you are building a vinyl setup from scratch, it might be worth considering using powered speakers with the AT-LP60X
Powered speakers have the amplifier built-in and don't need a separate amplifier or receiver. They are compact and easy to use.
They also offer high value for money, so if you are building an affordable system, they might save you a bit of money.
Two powered speakers that will be great companions for the AT-LP60X are the Audioengine A5 Plus and the Edifier S1000DB.
If you want something cheaper, then the Edifier R1280DB is a great option. They won't sound as good as the two more expensive recommendations above, but they are the best budget powered speakers that I know of.
I also have a complete guide on powered speakers for the AT-LP60X.
End Note
The AT-LP60X is arguably the best cheap turntable on the market today. Connected with decent powered speakers, it can form a vinyl setup that sounds excellent for the money.