Vinyl record players and turntables have made a comeback during the last few years, and as you build your new collection, you may want a place to keep your turntable. A record player stand can help you organize your growing vinyl collection, and below are 10 top choices that may suit your tastes. 
1. Victrola Wooden Stand With Record Holder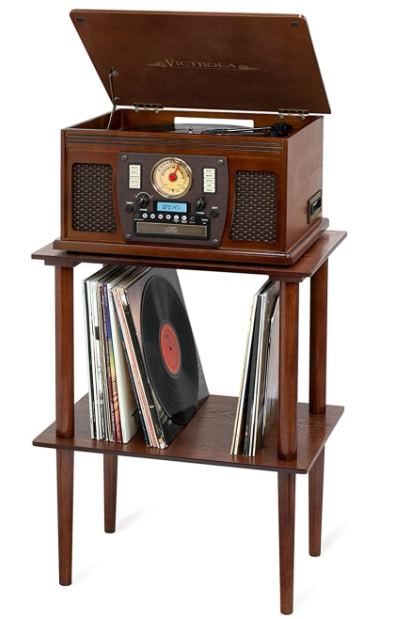 This stand is constructed from real wood and easily matches almost any type of decor you might already have in your home. The stand itself is wide enough to hold a sizable turntable, and the bottom shelf includes a metal bookend-style record organizer large enough to hold over 50 albums.
This stand comes in an attractive espresso color and weighs only 12 pounds, enabling you to move it to any room with ease. Whether you are starting out with building a record collection or looking for a space to store what you already have, this stand could be a good choice for you. Because of its size, you may want to measure your turntable to ensure it fits on the main shelf.
Price
Click here to check price on Amazon.
Key Features
Real wood construction
Metal album holder
Designed to match other Victrola products
Specs
Dimensions: 20.75 x 27 x 13.75 inches
Weight: 12.8 pounds
Manufacturer's warranty upon request
Pros
Easy to assemble
Lightweight
Real wood construction
Cons
May not support heavier turntable systems
Limited room for larger vinyl collections
2. Darla's Studio 66 Antique Grey-Stained Turntable Stand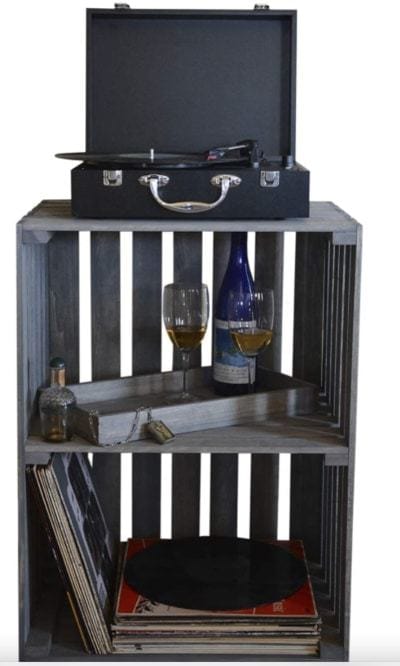 This crate-style turntable holder offers simplicity and ample storage space for your record player and your vinyl collection. The top shelf provides you with a sturdy place for your player and the two shelves below offer plenty of space for vinyl records of all thickness. This may be useful if you plan to add double-edition LPs to your collection, as these may need additional space.
Although this shelf is built with simplicity in mind, the design and color make for an easy match with any decor, especially if you enjoy a rustic style. Each turntable stand is made in the U.S.A. You can order additional crates to create your own personal storage space or expand as your record collection grows. This shelf can be a good choice if you are an active collector and plan to add records to your library at a rapid pace.
Price
Click here to check price on Amazon.
Key Features
Handcrafted wood
Crate-style stackability
Can be used vertically or horizontally
Specs
15 x 19 inch tabletop
15.25-inch depth
Holds 120 LPs
Pros
Comes assembled
Made by hand with Amish-sourced wood
Stackable for creative storage
Cons
Multiple crates may not align perfectly
Simplistic style might not match other decor
3. Ameriwood Home Southlander Tall Turntable Stand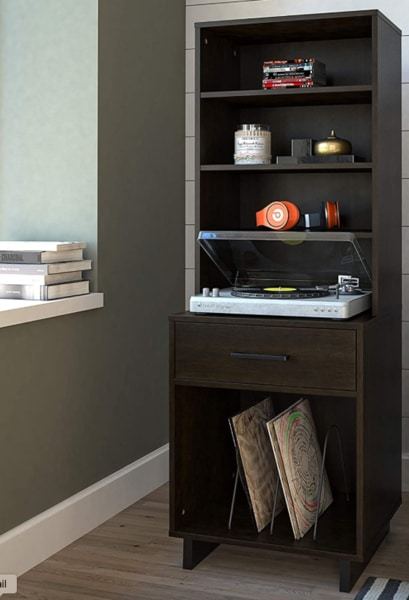 This stand could be a good choice if you are looking for multiple shelves for your LP collection and room for headphones and other accessories. It comes with two adjustable shelves so you can arrange it however you wish depending on what you would like to store. Because of this unit's height, it is important to use the included wall anchor to prevent tipping. You may also want to measure the space you plan to keep it in to ensure there is enough ceiling clearance.
You may especially appreciate this stand if you have a larger record collection, as it includes a shelf with wire holders to keep your albums upright and simple to flip through. An additional slide-out drawer sits above the record holder, where you can keep additional items up to 15 lbs. Consider storing headphones, album cleaner and other small items in this drawer.
Price
Click here to check price on Amazon.
Key Features
3 adjustable shelves (5 total)
Wooden construction
Comes in five colors
Specs
Dimensions: 18.1 x 20 x 57.5 inches
Weight: 57.1 lbs
1-year warranty
Pros
Fully adjustable shelving
Larger design for more storage options
Wall anchor included
Cons
Heavier than other stands
Assembly required
4. Line Phono Turntable Station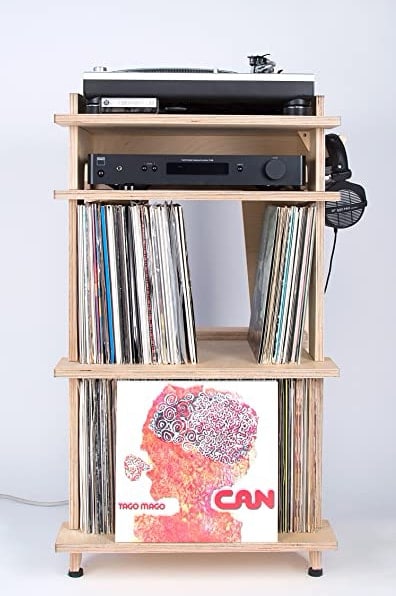 If you have limited space in your house or apartment, this is a good turntable stand choice. Made of Baltic birch, this table has two shelves, each of which can fit 100 LPs, providing you with plenty of space for an ample collection. The shelving is adjustable, which means you can use either shelf for other types of storage. This can be useful if you use exterior speakers for your turntable or want to add an amp.
One interesting feature of this unit is the now-playing grooves, where you display the album cover of the LP currently playing on the turntable. This is a fun feature for parties and other gatherings, as it is likely to start conversations about musical tastes and which other albums you might own.
Price
Click here to check price on Amazon.
Key Features
Cable management system for convenient hookup
Comes in birch or ebony finish
Accessory shelf
Record stops to protect LPs
Now-spinning grooves to show off your album's covers
Specs
Dimensions: 21.6 x 17.5 x 39.5 inches
Weight: 45 lbs
2.6 square feet of turntable area
Pros
Easy to assemble
Additional storage for music accessories
Adjustable feet
Cons
Costly for its size
Plastic assembly pins
5. Pangea Vulcan TT Turntable Stand
This stand is made with durability in mind, great for those who have an extensive record collection and want a sturdy shelving system that will not warp under its weight. The unit is constructed of reinforced steel and braces that ensure the LP shelf is well supported.
The Pangea Vulcan TT comes in two colors: ebony and rosenut. Both colors compliment almost any decor. The storage shelf is lined with vinyl to protect your record covers and holds more than 100 LPs. Consider this unit if you plan to add more albums to your collection in the future. The padded feet of this stand are useful if your home has hardwood floors.
Price
Click here to check price on Amazon.
Key Features
Sturdy top shelf for turntable stability
Scratch-resistant shelves
Padded feet
Specs
Dimensions: 27.2 x 19.5 x 5.6 inches
Weight: 36.1 lbs
19mm turntable space
Pros
Sturdy steel construction
Steel bolt assembly
Ample LP storage space
Cons
Heavier than some wooden shelves
Metal construction may cause speaker feedback with some systems
6. Novograts Turntable Shelf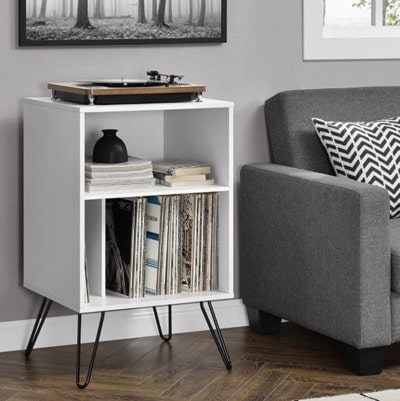 This record player stand provides your listening space with a simple yet retro look that is sure to turn visitors' heads. The unit, constructed from long-lasting particleboard, is a good choice if you are looking for a simple stand without a lot of frills. It is also lighter than traditional wood, which makes it simpler to move if you decide to relocate your turntable to another part of the house. The pin-style legs give this unit an unusual yet pleasant look that your visitors are sure to notice.
Five shelves located under the main turntable area provide you with plenty of storage for your LPs and other audio equipment. The turntable shelf can hold a unit that weighs up to 30 lbs. Check the weight of your turntable to ensure this stand can support its weight; otherwise, collapse or warping may occur.
Price
Click here to check price on Amazon.
Key Features
4 spacious cubbyholes
Roomy shelf for additional storage
Retro pin-style metal legs
Specs
Dimensions: 34.1"H x 20.7"W x 18"D.
Weight: 38 lbs
Laminated particleboard construction
Pros
Easy to assemble
Space-saving design
Removable legs
Cons
Limited weight restrictions for cubbyholes
No cutouts for cables
Only comes in one color (white)
7. Crosley Furniture Soho Record Player Stand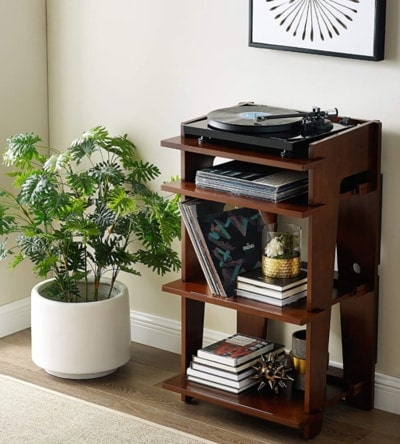 If you are looking for a record player shelf that saves space yet provides your music space with a look of elegance, then this Crosley stand might be the best choice. Its slim design includes several convenient features, such as cable guides and adjustable shelving. This unit also features the dynamic now-spinning groove, which allows you to display your album covers with pride.
This stand holds over 200 LPs, which gives you plenty of room for a large record collection. The multiple shelves offer you plenty of extra space for amps and headphones. The record stops in the back of the shelving protect your albums from falling out of the back of the cabinet and helps keep them upright as well, which is the recommended way of storing LPs.
Price
Click here to check price on Amazon.
Key Features
Comes in either black or mahogany
Multiple cable guides
Adjustable feet
Record stops
Specs
Dimensions: 17.75 x 21.75 x 39 inches
Weight: 45 lbs
Standard manufacturer's warranty
Pros
Includes a now-spinning album cover groove
Raised feet for dust protection
Slim, space-saving design
Cons
Plastic pin assembly
Initially strong odor out of the box
8. 2-Tier Modern Matte Black Lattice Style Metal Turntable and Vinyl Record Storage Organizer Table Stand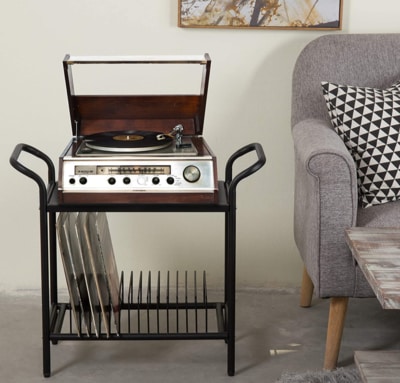 Sometimes, a simple record player stand can provide you with all the storage you need, especially if you are a novice LP collector and just starting to build your collection. This 2-tier stand, made of sturdy black matte-finished metal, includes a space for your turntable with slots for your records beneath it for easy accessibility.
This stand is a good choice if you are a novice record collector. It can also make a great gift for someone you know who is just starting their collection.
Price
Click here to check price on Amazon.
Key Features
16-slot record holder
Latticed top shelf
Curved handles
Specs
Dimensions: 22.75 H X 26.0 W X 11.0 D
Weight: 5.86 lbs
Warranty direct via the manufacturer
Pros
Lightweight and easy to move
The open design makes cable hookup simple
Raised bottom shelf protects records from dust
Cons
Limited space for larger record collections
Limited shelf space for additional audio accessories
9. Winsome Leo Shelf/Turntable Holder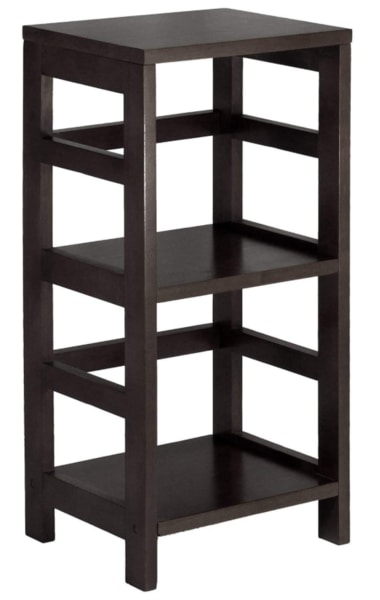 This two-tiered shelf is both a simple and a versatile choice for your turntable and LPs. Its handsome espresso finish is easy to match with other wood furniture in your home, whether you put it in your bedroom or your living room.
Two shelves under the main turntable space offer plenty of room for your records or other audio equipment, such as exterior speakers and headphones. The company offers additional pieces you can add to this unit, such as wire baskets, for extra storage space.
Price
Click here to check price on Amazon.
Key Features
Wooden construction
Two shelves
Available additional shelving
Specs
Dimensions: 11.25 x 13.5 x 29.25 inches
Weight: 12 lbs
12-inch shelving clearance
Pros
Lightweight, so needs no anchoring
Open design makes cable access simple
Versatile
Cons
Shelving may not fit thicker LPs
Comes unassembled
10. Novogratz Concord Double Turntable Stand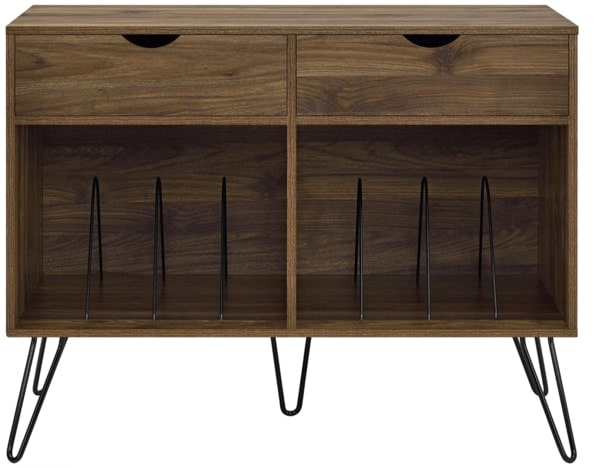 Like the other Novogratz product on this list, the company's double turntable model comes with a retro look that is sure to please. The roomy turntable shelf can hold your player, exterior speakers or the audio decor of your choice. The double drawers underneath each turntable space are deep enough to store a variety of accessories.
Each lower section of this unit includes wire stands to hold your record collection, whether you are a novice collector or have been building a library over the past few years. The cabinet's metal pin legs keep the record storage area well off the floor, which may help protect them from damaging heat and light sources. This unit comes with a walnut finish that pairs well with other products from the Novogratz furniture collection. Because of this stand's size, you may want to measure the dimensions of the space you plan to keep it in before you assemble it, as this can prevent placement issues afterward.
Price
Click here to check price on Amazon.
Key Features
Metal and wood construction
Wire LP holders
15 lb drawer weight capacity
Specs
Dimensions: 17.95 x 39.69 x 31.85 inches
Weight: 72 lbs
Manufacturer's warranty
Pros
Turntable stand holds up to 60 lbs
Lots of storage space
Classic woodgrain finish
Cons
Heavier than other available shelves
Does not assemble easily
Conclusion
With so many different turntable and record stand options available, you are sure to find one that suits your tastes and space availability. From retro to modern, from kitsch to classic, we hope this list helps you find the right unit, no matter your experience as a record collector.