Do Powered Speakers Need an Amplifier?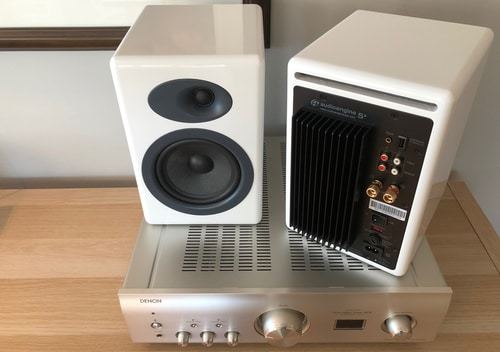 Powered speakers, also known as active speakers, are compact speakers commonly used for music listening at home, as monitors in music studios, and as PC speakers.
Do powered speakers need an amplifier?
Powered speakers have an amplifier built into the cabinet and do not need a separate amplifier. Powered speakers can be connected to music sources like CD players, turntables and computers directly. They are self-powered by their built-in amplifier.
So, the answer is no. Powered speakers don't need an amplifier.
The terms powered and active speakers are often used interchangeably, but there is actually a difference between them.
In a pair of powered speakers, there is usually only one amplifier that is built into one of the speakers. That single amplifier then powers both speakers. The second speaker does not include an amplifier and connects to the speaker with the amplifier through speaker wire.
In a pair of active speakers, each speaker has its own amplification. A pair of active speakers include not only one amplifier each, but one amplifier for each driver each. So a pair of 2-way active speakers will have no less than four amplifiers built-in. One amplifier for the mid/bass driver and one for the tweeter in each speaker.
Powered speakers is the lower cost solution of the two and is most common for consumer rated speakers. Active speakers cost more to make and are usually found in high-end and professional speaker applications.
If you want to learn more about the technology used in powered and active speakers, I recommend that you check out my Passive, Powered, and Active Speakers Explained article here at Vinyl Restart.
For the purpose of this article, I will use the term powered speakers as a general term for both powered and active speakers.
How to connect powered speakers?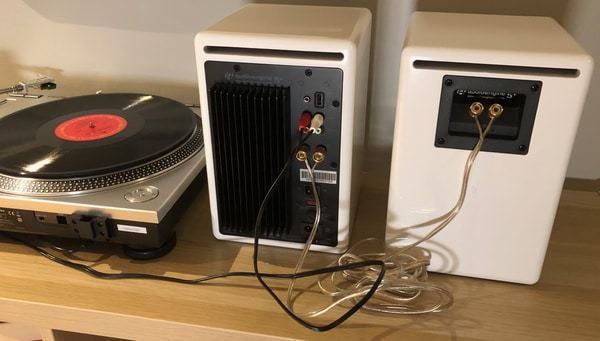 Here is how to connect powered speakers in three steps.
Connect the powered speakers to power
Connect the powered speakers to a music source with an analog RCA signal cable
Connect the two speakers together with speaker wire
The picture above shows how to connect a turntable to my Audioengine A5 Plus powered speakers using an analog RCA signal cable. And how to connect the speakers together with speaker wire. I forgot to include the speakers power cord tho…
The speaker to the left in the picture above includes the input connectors and the built-in amplifier. The amplifier in the left speaker also drives the speaker to the right, which is connected with speaker wire.
And as you see, no separate amplifier is needed. The speakers are connected directly to the turntable.
Many powered speakers offer the opportunity to connect music sources wirelessly through Bluetooth. With Bluetooth capable powered speakers you can, for example, stream music wirelessly from a computer or mobile.
Pros and cons of powered speakers
The main advantages with powered speakers are that they are easy to use, compact and offers high-value for money.
As the amplifier and speaker drivers share the same cabinet, powered speakers will save you money compared to buying the amplifier and speakers separately. If you are looking for an affordable way to play music from a music source, powered speaker might be a good option.
Powered speakers also save place as there are no amplifier or receiver needed. And you won't need the traditional stereo rack that holds the amplifier/receiver.
The main disadvantage with powered speakers are that the number of inputs and features might be limited compared to a separate amplifier or receiver. Also, if you are looking for very good sounding high-end speakers, there will be much more to choose from if you choose passive speakers and a separate amplifier.
Are powered speakers better than passive?
Whether powered or passive speakers are the best choice for you will depend on your need and budget.
If you look for an affordable way to play music from a computer or turntable, and don't have a lot of place available, then powered speakers will be a great option for you.
If you have a bigger budget, more space and are building a high-end stereo, then passive speakers with a separate amplifier will probably be the best choice.
Powered and active speakers haven't been popular among audiophiles that are passionate about sound quality, traditionally. But in recent years, speaker manufacturers have focused more on more on building high-end powered and active speakers, so that trend might change in the near future.
Can you use an amplifier with powered speakers?
Powered speakers are meant to be used without an amplifier.
You should never connect the power output (speaker terminal) on your amplifier to the speaker terminals on powered speakers.
The speaker terminal on the powered speaker that holds the built-in amplifier is a POWER OUTPUT that is there to power the other speaker. It is not a POWER INPUT that can be connected to an amplifier.
If your amplifier has a LINE-level analog output, then you can safely connect that to the LINE-level analog input on your powered speakers. You are not using the power amplifier section in your amplifier to drive the powered speakers by doing it this way. You only route the low voltage LINE-level analog music signal through the amplifier.
You might want to do this if you have a pair of passive speakers connected to the power output of your amplifier and want to play music through the powered speakers at the same time.
The passive speakers are then connected to the high power and high voltage output on the amplifier (speaker terminals). And the powered speakers are connected to a low power and low voltage LINE-level output.
Can powered speakers be used as passive speakers?
Powered speakers can usually not be used as passive speakers, since there won't be a high-power input on both speakers in most cases.
Recommended powered speakers
If you are looking for low-cost powered speakers to use with a mobile, PC, turntable and what have you, I highly recommend the Edifier R1280T. They are among the most popular powered speakers on Amazon, loved by experts and shockingly good for their price. They also come in a Bluetooth version called Edifier R1280DB.
If you have a higher budget and are looking for better sounding powered speakers, then I recommend the Audioengine A5 Plus Bluetooth. I have these myself and they are amazing. I have done a lot of research on powered speakers in this price range, but found nothing that can match the Audioengine A5 Plus when it comes to positive reviews and praise from experts. They look and sound very good.