In this short guide, we'll look at how we can make a regular turntable wireless and use it to stream music to Bluetooth speakers and other Bluetooth capable stereo systems.
The popularity of wireless speakers seems to increase every year. And so do the popularity of Bluetooth turntables that connects to wireless speakers without the need of a signal cable.
The Audio-Technica AT-LP60XBT wireless Bluetooth turntable is now one of the best-selling turntables on Amazon. You can find all my top recommendations for Bluetooth turntables in my Best Turntable with Bluetooth article.
But what are your options if you have an older without Bluetooth that you want to connect wirelessly to Bluetooth speakers? Or if you recently bought a new turntable without Bluetooth capability?
Is there a way to make regular turntables work with wireless Bluetooth speakers?
Is there still hope?
It is possible and easy to convert a non-Bluetooth turntable to a Bluetooth turntable using a Bluetooth 5.0 Transmitter and Receiver.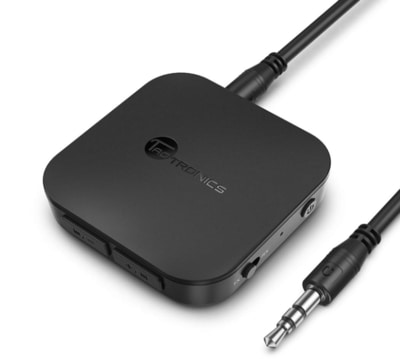 In this guide, we'll look at how we can make a turntable wireless. I will explain what we'll need and I will give you exact step-by-step instructions on how to set up your turntable to work with wireless speakers. And we'll look into the pros and cons of spinning vinyl wirelessly.
What is wireless Bluetooth?
Bluetooth is a wireless protocol that transfer a music signal wirelessly from the music source to wireless speakers or wireless headphones.
The music source can be a turntable, PC or smartphone.
The music signal is sent wirelessly from a radio transmitter that is built into the music source to a radio receiver that is built into the wireless speakers or headphones.
One thing to be aware of is that there are wireless speakers that use other protocols than Bluetooth.
Systems like Apple Airplay and Sonos use the WiFi protocol to transfer the music signal. And not Bluetooth.
So it is important to make sure that your wireless speakers are Bluetooth compatible to connect them to a Bluetooth turntable.
How do we make a non-wireless turntable wireless?
A turntable without Bluetooth capability does (obviously) not have a Bluetooth radio transmitter built-in. Only Bluetooth turntables do.
So to make a standard turntable wireless, we'll need to use an external Bluetooth adapter that connects to the turntable and transmits the music wirelessly to the speakers.
There are several Bluetooth adapters to choose from. The important thing to consider is that the one we choose has analog inputs and support the aptX Bluetooth protocol for the highest quality sound.
The one I would choose is the ZIIDOO Bluetooth 5.0 Transmitter and Receiver (Amazon link).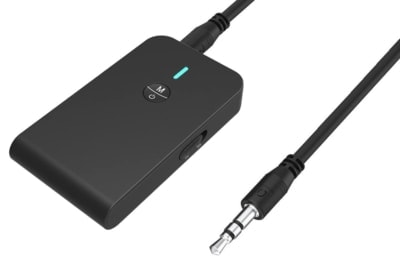 Depending on the connectors on your turntable, you may also need a 3.5mm to RCA converter (male or female). You will find that on Amazon. 
Note! If you use a separate phono preamp, you must connect the Bluetooth adapter to the output of the preamp, and not to the output of the turntable.
After connecting the adapter to the turntable (or preamp), you will need to pair the adapter and your wireless speakers.
The user manual that is included with the adapter will explain the pairing process thoroughly so please refer to the user manual for step-by-step guidance. Or you can watch this YouTube video that explains the process.
Pros and Cons of wireless Bluetooth turntables
Spinning vinyl wirelessly with no cables lying around can be convenient. But it has a few downsides too. Here are the main pros and cons of wireless Bluetooth for vinyl.
Pros of Bluetooth turntables
No ( at least fewer) cables
Turntable and speakers can be placed more freely
The turntable can also connect wirelessly to wireless headphones
Cons of Bluetooth turntables
Bluetooth might compromise the sound quality
The pairing process might be tricky for some non-techies
Bluetooth adds cost
How to make your whole stereo system wireless?
Can we convert non-Bluetooth powered speakers and non-Bluetooth stereo receivers to Bluetooth as well?
Yes, that is easy too.
We can use the same Bluetooth adapter as recommended above in receiver (RX) mode to make the receiver end wireless.
If you, for example, have a regular turntable and a regular pair of powered speakers that you want to make wireless, you can connect a Bluetooth adapter in TX mode to the turntable and a Bluetooth adapter in RX mode to the powered speakers to make the whole system wireless.
The adapter has a switch where you can choose between transmitter (TX) mode and receiver (RX) mode, so you can buy two similar adapters and make the whole system wireless by connecting one adapter to each end.
End note
In this article we have seen that it is possible and reasonably easy to convert a regular turntable to a Bluetooth wireless turntable using a Bluetooth adapter.