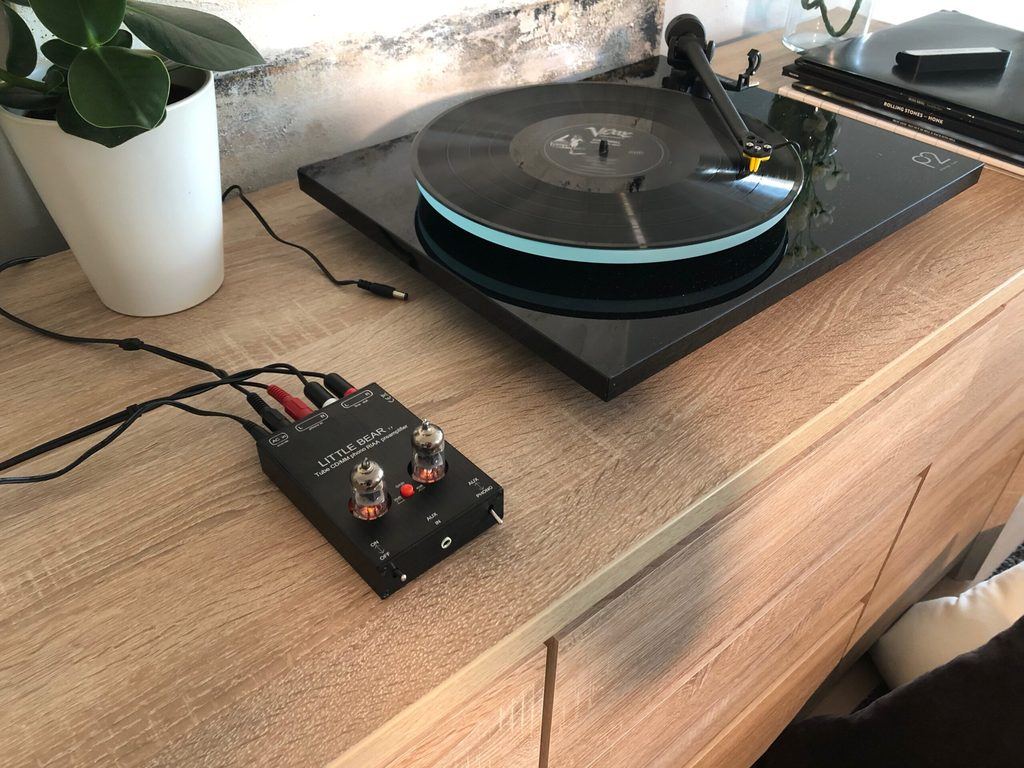 I recently bought a Little Bear T7 tube phono preamp. I have been curious to see how this cheap little preamp performs and sounds for a long time.
I have now played quite a bit of music with it. So I thought I should post a short review and try to describe my experience with the Little Bear T7 as good as I can.
I also have a review of the more expensive Pro-Ject Tube Box S2 tube phono preamp that might be worth a read if you are shopping for a tube phono preamp You can also check out my Best Tube Phono Preamps article for a comprehensive review of tube preamps.
VERDICT
The Little Bear T7 works fine as a phono preamp and sounds good for the price. The build-quality is however not great and might be below what you normally expect from audio gear today.
PROS
Tube phono preamp for a low price
Good sound for the money
CONS
Poor build quality
Looks cheap
PRICE
Click here to check current pricing on Amazon.
Key Specifications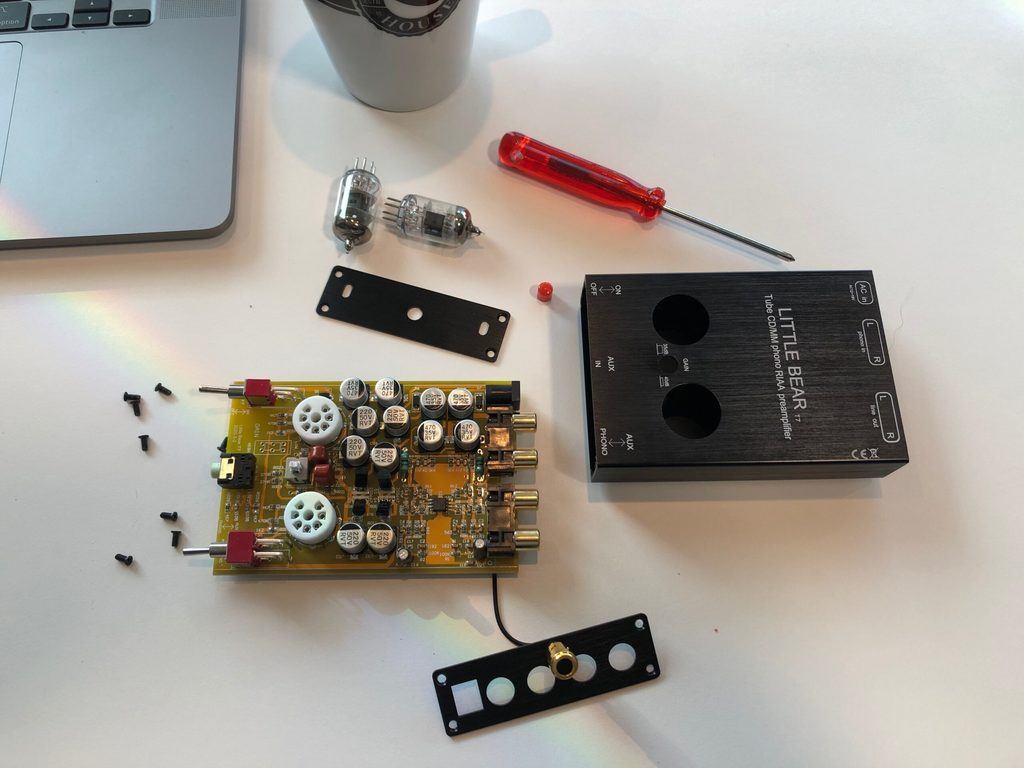 Inputs: Phono MM and AUX
Gain: 35dB and 40dB
Tubes: 6J1 (Upgradable)
Size: 80x116x28mm
Phono input impedance: 47k ohm / 220 pF
Click here to check full spec on Amazon.
I have not studied the circuit schematics myself, but based on research it seems certain that the tubes are used for buffering only.
The RIAA correction and voltage amplification circuitry is built with transistors (op-amps), not tubes. According to my research.
So this is not a full-blooded tube phono preamp per se. Which isn't to be expected at this price point.
First impressions
The first thing I noticed after unboxing the Little Bear T7 is that there is something loose and rattling inside. When I later opened it up, I notice that it is actually the whole circuit board that slides back and forth inside the chassis.
The circuit board sits in a slot and is held in place by the end profiles of the chassis. But the circuit board is about 2mm too short and therefor slides back and forth in its slot.
I don't think this will cause any issues tho.
A rubber strip or something glued to the inside of one of the end profiles would, however, hold the circuit board firmly in place and increased the perceived build-quality a lot.
The casing itself is actually decent, it is just that the stuff inside is loose.
The ON/OFF, AUX/PHONO and GAIN switches also feel a bit cheap. And the circuit board inside tends to move around in its slot when you operate the switches.
I must say, the whole thing feels a little bit like something I put together as a DIY project in the electronics lab back in the days when I studied electronics engineering at the university.
Honestly.
I am not impressed by the build quality.
The tubes, that are packed separately, are easy to fit and the whole thing is easy to hook up.
The tubes glow nicely when I connect the power and turn it on. It doesn't matter that the glow is created by LEDs and not the tubes. It still looks cool.
My testing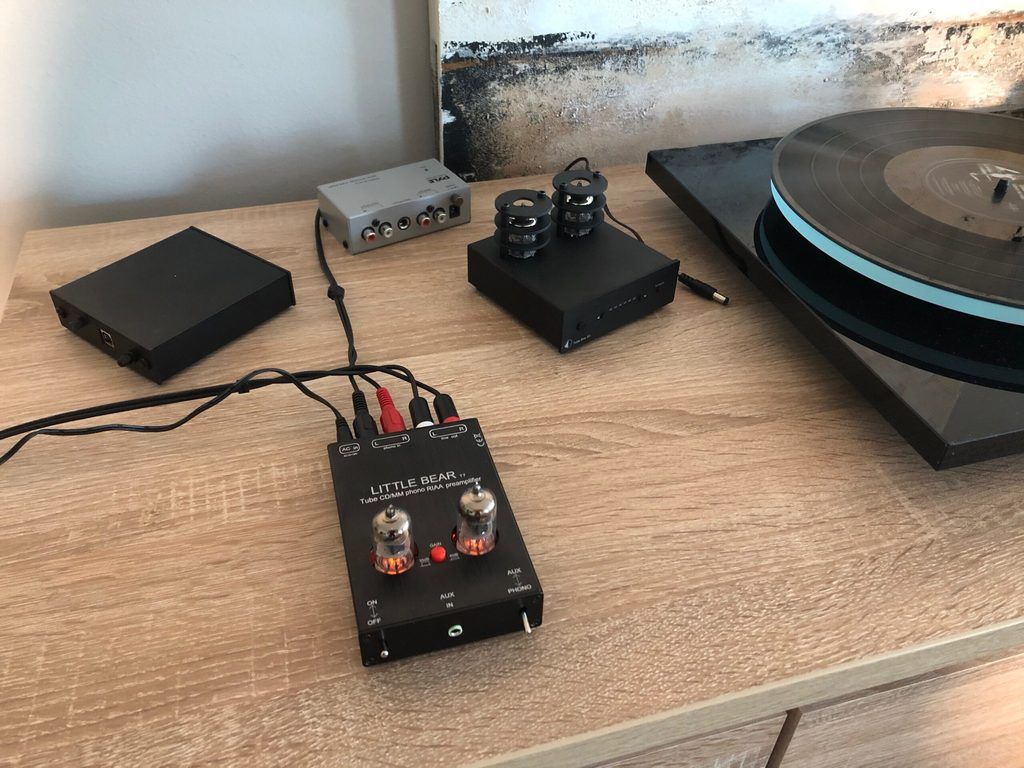 For my sound testing, I mostly used my Focal Elear high-end headphones. They have a very detailed sound and are great to compare gear. I would probably need $5.000 speakers and a listening room with awesome acoustics to get close to their level of details.
I listened to a wide variety of records using my Rega Planar 2 turntable with its Rega Exact cartridge upgrade.
I used the original tubes that are shipped with the preamp in all my testing.
And I swapped between the Little Bear T7 and my other preamps over and over again to try to get as much comparison data as possible.
Sound
The first time I put the Little Bear T7 on sound, I noticed significant clipping and frankly, terrible sound.
It helped to change the gain from 40db (default) to 35db. But it didn't remove the clipping sound completely.
Fortunately, I noticed that the clipping disappeared after I had left it on for a few hours.
I have not been able to recreate the clipping I heard the first time I turned it on after unboxing it.
Now, I don't notice any clipping even if I let it cool completely down, and turn it on again.
It seems like the tubes simply needed a bit of time to "break-in" before it works as intended. Which is not uncommon for tube amplifiers, apparently.
What about noise?
The noise floor is perfectly fine in my experience.
I compared the Little Bear T7 to my Rega Phono Mini A2D solid-state phono preamp, which is design to work with my Rega Turntable, and they produces exactly the same level of noise. I had to turn the volume up very high to hear any noise. Which is acceptable.
No problems with noise in my experience.
How does the Little Bear T7 sound?
Being a little bit disappointed with the build quality, I must say that the sound quality was a pleasant surprise.
The details are there. The dynamics are there. And maybe also a little bit of that warmth and richness that we want from a tube phono preamp.
Compared to my Pro-Ject Tube Box S2, the Little Bear T7 sounds better than I had expected. Build-quality is night and day between the two, but sound-quality is not that different.
In my ears, the Tube Box S2 adds a touch more warmth and richness to the sound compared to the Little Bear T7. But we are talking nuances.
But I guess nuances are what we are after when we put money in phono preamp upgrades. In my experience, the preamp is not the component that makes the biggest difference in a vinyl setup. Turntable, cartridge and speakers are much more important.
To sum it up, I cannot criticise the sound quality of the Little Bear T7. Its sound quality is closer to the many times more expensive Pro-Ject Tube Box S2 than I had expected.
Who is it for?
Quality tube phono preamps tend to be expensive, but the Little Bear T7 offers an affordable alternative for those that don't have huge stereo budgets.
The Little Bear T7 is not an audiophile product. But it will do a good job in an affordable vinyl setup.
The sound is good for the money, but you have to accept the cheap look and the poor build-quality.
If you looking for a full-blooded, high-quality tube phono preamp, then the Little Bear T7 is probably not for you. If that is the case, you'll have to spend a lot more money.
Alternatives
Building a quality tube phono preamps is hard to do on low cost. Quality tube phono preamps are expensive and traditionally used by audiophiles, not casual vinyl spinners.
Therefore, there aren't many super affordable tube phono preamps to choose from.
If you are looking for an affordable phono preamp that is built to the highest quality standards and sound great for the money, it is probably safer to choose a solid-state (non-tube) phono preamp.
There are many good solid-state phono preamps to choose from below $100.
You can find our top preamp recommendations in our 10 Best Phono Preamps from $10 to $500 guide.
However, if a highly affordable tube phono preamp is what you want, which is probably is since you are reading this article, then the Little Bear T7 is probably your best option. There aren't many tube alternatives at this price point.
Its bigger brother, the Little Bear T11, might be worth a look. I have not tested the Little Bear T11 myself, but it seems to receive good reviews. It does however require a significantly bigger budget.
The Pro-Ject Tube Box S2 is my favorite "affordable" tube phono preamp. But it cost many times more than the Little Bear T7.
Conclusion
The Little Bear T7 sounds good for its price and offers tube amplification look and feel for very little money compared to most tube-based phono preamps.
Glowing tubes are cool!

The low cost does however have its impact on build quality, which in my opinion isn't great.
But that might very well be an acceptable tradeoff to become a tube amplified vinyl spinner without breaking the bank.