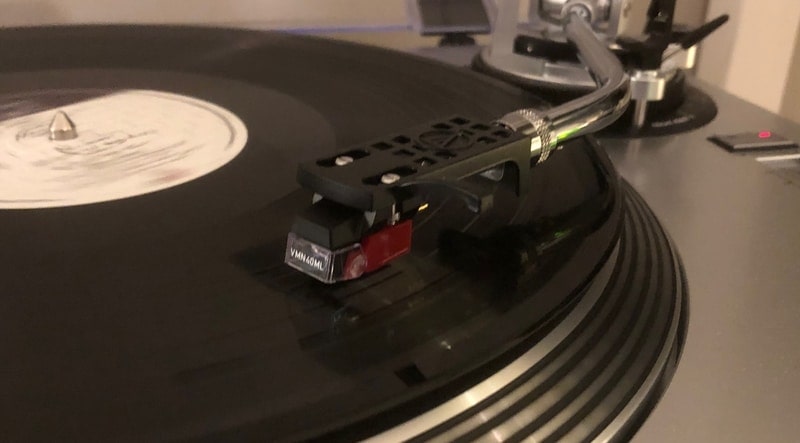 The Audio-Technica VM540ML is currently my favorite phono cartridge based on performance per dollar. It sells for a price that is achievable for most vinyl spinners and it has a performance that I think will satisfy the needs for most of us.
I honestly think the VM540ML is a complete bargain. So please prepare yourself for a very favorable review.
The VM540ML provides plenty details, dynamics and openness without becoming overly analytical or fatiguing. When I listen to Leonard Cohen 'Live in London' his voice is strong and present with lots of texture, without ever becoming crisp or harsh sounding. It sounds very engaging but still smooth as silk.
In my experience, the VM540ML has a neutral sound balance. If anything, slightly on the bright side. But I would definitely not characterize it as either warm or bright. It sits pretty much right in middle in my opinion.
The VM540ML is equipped with a Nude MicroLine stylus that tracks very well. I have not experienced issues with noise, inner groove distortion or sibilance with this cartridge. It is well known to be a good tracker.
When I tested the VM540ML against my Ortofon 2M Blue, I found the VM540ML to provide almost as much texture and dynamics as the highly analytical 2M Blue, but with more soul and smoothness. I personally find the VM540ML to be the most enjoyable cartridge of the two. With the VM540ML I just want to keep on listening to records, whereas the Ortofon 2M Blue becomes to crisp and analytical for my taste and/or system.
When I replaced the AT95E that came stock with my Audio-Technica AT-LP120USB turntable with the VM540ML, the sound of the turntable immediately opened up and became more lively, engaging and enjoyable. I found the VM540ML to be a huge upgrade from the AT95E. Which is now replaced by the VM95E.
Compared to the $600 Rega Exact cartridge that currently sits on my Rega Planar 2 turntable, I do not think significantly cheaper VM540ML lacks much in dynamic, details or engagement. The biggest difference between the two is that the Rega Exact has a slightly warmer and more laid-back sound balance. Compared to the Rega Exact, the VM540ML is a fraction brighter sounding. These are both great cartridges, but when taken the price difference into consideration, I personally think the VM540ML gives more value for money.
I do not claim to be an expert in the field of phono cartridges. I am not even close. But if I should recommend a cartridge that offers great sound and great value for money to a friend right now, I would definitely recommend the VM540ML.
VM540ML Specifications
PRICE
You can check the current price on Amazon by clicking here (affiliate link).
PREDECESSOR
AT440ML
KEY SPECIFICATIONS
Stylus Type: Nude square shank / MicroLine
Weight: 6.4 g
Rec. tracking Force: 2.0 g
Rec. load capacitance: 100-200 pF
Output level at 1 kHz: 4.0 mV
Channel Separation at 1 kHz: 28 dB
Link to complete list of specifications.
VM540ML Pros and Cons
PROS
Great value for money
Open and engaging
Neutral sound (more or less)
Smooth
Fantastic tracker
Replaceable stylus
CONS
Not great if you want a ´rock and roll cartridge' with lots of groove (too neutral)
Not great if you want a super analytical cartridge (too smooth)
Conclusion
I chose to keep this review short and to the point. I hope you still found it useful.
If you are looking for a great all-round cartridge that will give audiophile performance for less than audiophile money, I highly recommend that you give the VM540ML a try.