In this guide, I'll review turntables that are perfect companions for Sonos. I will then describe how to connect turntables to Sonos, Bluetooth and wired.
If you have one or more Sonos products at home, chances are that you are passionate about good sound and elegant design. So, we'll pick the very best turntables that match the sound and design of Sonos.
Sonos doesn't have to be only about digital music streaming. Several Sonos products work great for turntables too. We'll look at how to connect a turntable to Sonos in detail later in this guide.
What does a turntable need to be great for Sonos?
First, a built-in preamp. Turntables come with and without built-in preamps. My focus will be on the ones with a preamp included. This way, we don't need a separate preamp. The result is a cleaner setup with fewer boxes and fewer cables.
Second, we probably want an elegant and modern looking turntable that matches the design language of Sonos products. So, my focus will be on turntables with modern designs. And we'll ignore the vintage looking and DJ style turntables.
And third, a great turntable for Sonos must have good sound without costing a fortune. It will be overkill to connect a $2000 high-end turntable to Sonos. But we'll still want a turntable with great sound so we'll ignore the most basic and lowest quality turntables.
Below are the four turntables I consider the very best options for Sonos. Sorted from least expensive to most expensive.
All these are quality products from acknowledged manufacturers that are well reviewed by Hi-Fi critics and generally loved by owners.
#1. Audio-Technica AT-LP60X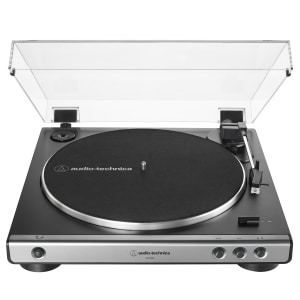 If you don't want to spend a lot of money, then the Audio-Technica AT-LP60X is probably the best option for you. It looks great and is one of the most popular turntables on the market today.
Even though it is an inexpensive turntable, it generally receives good reviews from Hi-Fi critics and it is considered to be one of the best best sounding turntable in its price range.
At this price point, we will not get the very best sound quality. That would be too much to ask for, even tho the AT-LP60X probably sound best in its class. If you are a casual vinyl spinner, the sound quality will probably be fully acceptable. If you are picky about sound quality, then one of the turntables below might be a better pick for you.
The AT-LP60X is fully automatic and can play 33RPM and 45RM records. It is available in four different color combination.
PROS
Low cost
Built-in preamp
Modern design
CONS
Can't upgrade cartridge
Good sound, but not great
Bluetooth costs extra
Click here to check price on Amazon for the most affordable non-Bluetooth version.
There is also a Bluetooth version, the AT-LP60XBT.
Click here to check price for the Bluetooth version on Amazon.
#2. Sony PS-LX310BT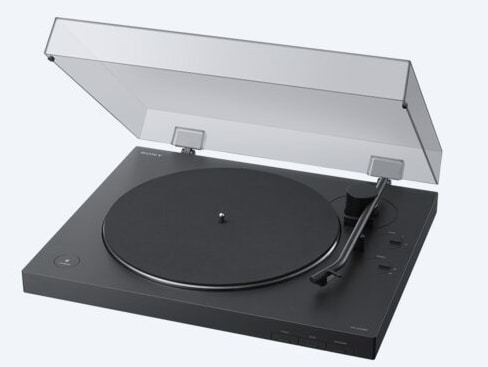 Another great option for Sonos is the great looking and great sounding Sony PS-LX310BT.
When reviewed by the leading Hi-Fi publication What Hi-Fi, they concluded that the Sony PS-LX310BT is "one of the best sounding fully-automatic turntables we have ever heard" and gave it a score of 14 out of 15.
That is quite amazing considering its affordable price.
It has very similar features to the Audio-Technica AT-LP60X that we looked at first, except that the Sony PS-LX310BT comes with Bluetooth as standard. Bluetooth is an extra option on the AT-LP60X. It might also have a more traditional look than the Audio-Technica.
PROS
Affordable
Built-in preamp
Nice design
Bluetooth is standard
CONS
Nothing at this price point
Click here to check price on Amazon.
#3. U-Turn Orbit Plus (with preamp)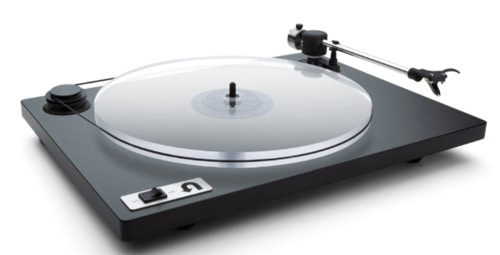 Personally, I can't think of a better turntable for Sonos than the US made U-Turn Orbit Plus with preamp.
It offers the perfect balance between price, performance, and design in my opinion.
Designed and manufactured in Massachusetts, US by real and authentic turntable enthusiasts, the Orbit Plus has become a huge success since it was launched in 2012. It is well reviewed by Hi-Fi critics and owners.
If you want a very good turntable for your Sonos, you will not go wrong with the U-Turn Orbit Plus.
PROS
Great Sound
Nice Design
Many Color Options
Cartridge can be upgraded for even better sound
CONS
Cue lever costs extra
Not Bluetooth compatible
Click here to check price on Amazon.
#4. Rega Planar 1 Plus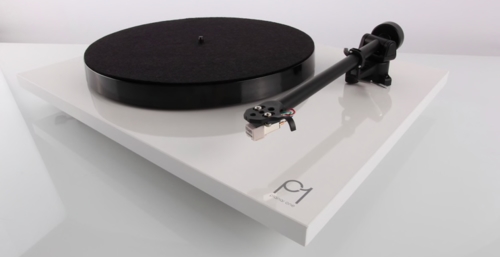 If you are super-serious about design and performance, it might be worth it to stretch your budget to afford a Rega Planar 1 Plus.
Rega is one of the turntable manufacturers in the world with the longest traditions of making very high-quality turntables. And they are probably the most respected Turntable manufacturer in the world today.
With their (relatively) low priced Rega Planar 1 Plus, they combine the award-winning Rega Planar 1 turntable with the award-winning Fono Mini preamp into a package that is hard to beat and offers very high value for money.
Rega turntables are known to sound great and to be of great build quality. And in my eyes they have the most elegant design too. They look and feel very expensive.
Yeah, you guessed it. I use a Rega turntable for my vinyl spinning as well. A Rega Planar 2 to be exact. And I am a huge fan of Rega products.
If you are really serious about picking the absolute best turntable for your Sonos, this is the one for you.
PROS
Great sound
Elegant design
Very high-quality preamp
Cartridge can be upgraded for even better sound
CONS
Might start to get expensive for Sonos
Not Bluetooth compatible
Click here to check price on Amazon.
How to Connect Sonos to a Turntable
There are currently 6 Sonos products that can be hooked up to a turntable using a standard wired connection. So to listen to vinyl on Sonos without going the Bluetooth route you will need one of these.
Amp
Connect
Connect:Amp
Port
Play:5
Five
The reason for this is that the device needs to have an analog input to be hooked up to a turntable. A turntable (with preamp) outputs an analog LINE level signal. And the 6 products above are currently the only Sonos products that have an analog LINE level signal input.
With the Amp, Connect, Connect:Amp and Port you connect the turntable directly to the RCA inputs using the RCA cable that comes with the turntable.
With the Play:5 and Five you will need an additional 3.5mm Male to 2X RCA Female adapter. You then plug the single end of the RCA Female Adapter into the line-in port of Play:5/Five and attach the RCA cable from your turntable to the other end of the RCA Female Adapter.
It is all very simple and doesn't require any technical skills.
Can We connect a Bluetooth turntable to Sonos?
Traditionally, Sonos products don't support Bluetooth wireless. The wireless protocol used by Sonos products is based on WiFi. Bluetooth and WiFi are two different protocols that won't play together.
This is still true except for the more recent Sonos Move and Sonos Roam speakers that support Bluetooth.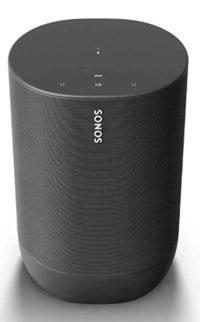 So, if you have one of those speakers, then you have the option to connect wirelessly using Bluetooth.
There are two ways to connect a turntable wirelessly via Bluetooth.
The first is to buy a turntable that have Bluetooth capability built-in. The best options are the Audio-Technica AT-LP60XBT which is the Bluetooth version of the first turntable I reviewed and recommended above or the Sony PS-LX310BT that is number two on the list above and come with Bluetooth as standard. You can also see our full list of recommended Bluetooth turntables here.
The second option is to use a Bluetooth adapter to make a non-Bluetooth turntable Bluetooth capable. I describe how this is done in detail in this article.
Related Questions
What is the difference between PHONO and LINE?
A PHONO signal is a very tiny signal that is outputted from the cartridge on a turntable. It is usually about 5mV in size. A PHONO signal also has reduced bass levels and increased treble levels because vinyl records are carved with reduced bass (and increased treble) to reduce the space needed to fit each song on a record.
A LINE level signal is a standard signal level of about 300mV that is used to connect home audio music sources to amplifiers, receivers and music systems like Sonos.
CD players, tuners, recorders and digital music streamers all output a LINE level signal from their analog outputs.
A turntable without a built-in preamp outputs a PHONO signal.
A turntable with a built-in preamp outputs a LINE signal.
What is a phono preamp?
A phono preamp converts a PHONO signal to a LINE signal.
When a PHONO music signal is applied to a phono preamp, the signal is amplified from about 5mV (usually) to about 300mV. The signal is also RIAA equalized so that it reaches a flat or neutral frequency response.
A phono preamp can be a standalone unit, or it can be built into a turntable or a receiver. There are also some powered speakers that come with a phono preamp built-in.
What is a cue lever?
A cue lever helps you safely and precisely cue your records.
What is the difference between Bluetooth and WiFi?
Bluetooth is designed to connect two mobile devices wirelessly over short distances up to 30 feet. WiFi is designed to provide high-speed access to internet over (relatively) long distances up to 300 feet.
WiFi has much higher bandwidth than Bluetooth. Home stereo devices that use WiFi to transfer music wirelessly (like Sonos) will have better sound quality than devices that use Bluetooth to transfer music wirelessly because of the higher bandwidth.
Bluetooth and WiFi are not compatible, and it is not possible to connect a Bluetooth device to a WiFi device.
Does Sonos connect to Bluetooth?
Most Sonos product use WiFi to transfer music. And are not Bluetooth compatible. The only exception (currently) are the Sonos Move and Sonos Roam speakers that is compatible with both WiFi and Bluetooth.
Recourses
Sonos Blog – How to connect a turntable
Audio-Technica Home – AT-LP60X