It is definitely possible to use Bluetooth speakers with turntables and record players.
Replacing the good old signal cable with wireless Bluetooth has become a popular way of listening to vinyl.
But Bluetooth speakers won't work with just any turntable or record player.
There are essentially two ways to use Bluetooth speakers with a turntable or record player to play vinyl wirelessly. You can use a Bluetooth turntable that has a built-in Bluetooth transmitter. Or you can use a regular turntable and a separate Bluetooth transmitter.
Let's look at the two options in more detail.
Option 1: Bluetooth capable turntable
The most straight forward way is using a Bluetooth capable turntable. Which essentially is a regular turntable that comes with a built-in Bluetooth transmitter from the factory.
These turntables transmit the music signal wirelessly to Bluetooth speakers just as a mobile phone works with wireless Bluetooth headphones etc.
Popular Bluetooth turntables include the Audio-Technica AT-LP60XBT, the Sony PS-LX310BT and the Audio-Technica AT-LP120XBT-USB to give a few examples.
If you have a Bluetooth turntable and Bluetooth speakers, it should be quite straight forward to connect the two and play vinyl wirelessly from the turntable to the speakers.
At least as straight forward that Bluetooth pairing can be…
What you need to do is to put both devices in pairing mode by following the included instructions and wait until they have made friends. From there, you can spin records and enjoy the sound from the Bluetooth speakers.
You can find more information in my What is a Bluetooth Turntable and How to Connect It article.
Two types of Bluetooth Turntables (Record Players)
There are currently two types of Bluetooth turntables on the market right now that you should be aware of.
Confusing, I now.
One type is the all-in-one record players with speakers included in the cabinet. One example is the Victrola Journey VSC-550BT. These type of turntables are often labeled Bluetooth turntables, but that does not mean that they connect to Bluetooth speakers. Their function is actually the opposite. Their built-in speakers can work as Bluetooth speakers themselves. With this type of Bluetooth turntables, you can stream digital music wirelessly from your mobile phone to the speakers in the turntable. But you cannot stream vinyl to Bluetooth speakers from the turntable.
The other type of Bluetooth turntables is regular turntables with a built-in Bluetooth transmitter. One Example is the Sony PS-LX310BT. This type of Bluetooth turntables can connect to Bluetooth speakers and play vinyl records wirelessly to external Bluetooth speakers. This is the type of Bluetooth turntables we focus on in this article.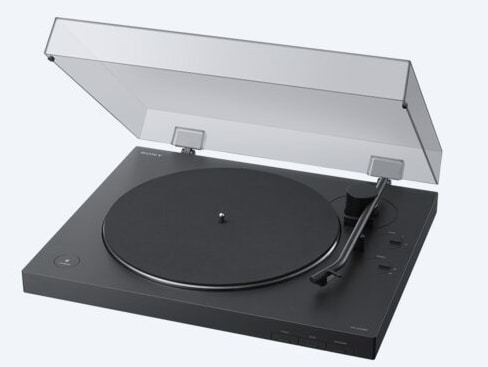 Option 2: Regular turntable with an external Bluetooth transmitter
If you have a regular turntable without Bluetooth functionality, it is still possible to connect it wirelessly to Bluetooth speakers by using a Bluetooth transmitter.
A Bluetooth transmitter is a little device that connects to the output of your turntable and sends the music signal wirelessly to the Bluetooth speakers.
One option that seems to be very popular on Amazon is the ZIIDOO Bluetooth 5.0 Transmitter and Receiver. There are many other options as well.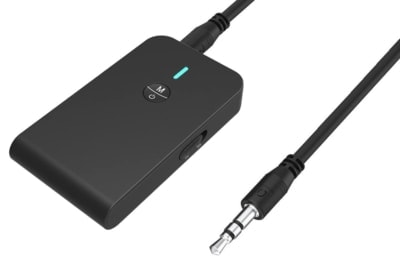 Depending on the connectors on your turntable, you may also need a 3.5mm to RCA converter (male or female). You will find that on Amazon.
If your turntable doesn't have a built-in preamp, then you must connect the Bluetooth transmitter after a standalone preamp. The signal we apply to the Bluetooth transmitter must be a LINE signal that is RIAA corrected, not a PHONO signal that comes directly from the turntable's cartridge.
You can read more about the difference between PHONO and LINE here if you are not completely sure how they differ.
I also have a separate article that describes in more detail how to use a Bluetooth transmitter with a turntable.
Do Bluetooth turntables sound good?
So, what happens to the sound quality when we use Bluetooth instead of a signal cable?
In theory, the sound quality is reduced because the Bluetooth protocol compresses the music signal before it is transferred wirelessly. So Bluetooth is not an ideal technology for high-fidelity music.
That said, you probably need a quite decent stereo system to hear an actual different. Most people are happy with listening to music using Bluetooth headphones and Bluetooth speakers all day long.
On a high-fidelity system, you will, however, probably want to keep the good old signal cable. For the best possible sound. For this reason, Bluetooth capability is often found on entry-level turntables but never included on high-end turntables. On high-end applications the limitations of the Bluetooth protocol become noticeable. Especially for the trained ear.
You can read more about the sound quality of Bluetooth turntables in my Do Bluetooth Turntables Sound Good article.
Good Bluetooth turntables
Many popular entry-level turntables come with Bluetooth. Some models have the option to be had with or without Bluetooth. On those, you can save a bit of money if you select the version without. The difference is usually around $50. Other models, like the Sony PS-LX310BT, only come with Bluetooth as standard and cannot be optioned out.
Good and affordable Bluetooth turntables include the Audio-Technica AT-LP60XBT and Audio-Technica AT-LP120XBT-USB that can be had with or without Bluetooth. As well as the Sony PS-LX310BT that only comes with Bluetooth as standard.
You can read more about recommended Bluetooth turntables in my Best Bluetooth Turntables article.
Good Bluetooth speakers for vinyl
I have done a lot of testing and research to find good speakers to use with vinyl.
My top recommendations for budget, midrange and audiophile Bluetooth speakers for vinyl are the Edifier R1280DBs (budget), Audioengine A5+ Wireless (midrange) and Klipsch The Fives (audiophile). There are many other great options as well, but these are the three I would choose between for my money.
You will find the complete list of recommended speakers in my Best Powered Speakers for Vinyl article. Most of these speakers come with Bluetooth functionality, which is clearly highlighted in the lists of key specifications.