Tube Phono Preamp for AT-LP120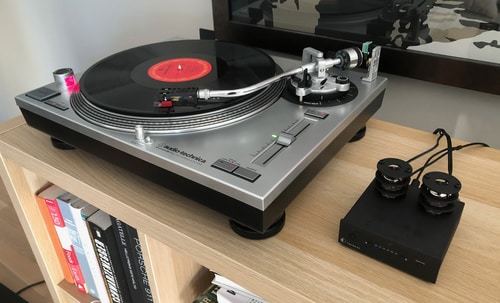 For the longest time, I've been wondering if a tube phono preamp could add a touch of warmth and magic to the sound of my AT-LP120. Without having to spend thousands of dollars on a super high-end tube phono preamp.
I've been close to ordering a tube preamp several times, but never pulled the trigger.
Until now.
I have finally pulled the trigger and ordered a Pro-Ject Tube Box S2.
It is a tube preamp I have had my eyes on for a long time. I've heard and read a lot of great thing about it. It is not the cheapest tube phono preamp on the market. It is significant money, but not crazy expensive.
In this article, I'll explain why I chose the Pro-Ject Tube Box S2 and share my experience with how this relatively affordable tube phono preamp works with my AT-LP120.
Is the Pro-Ject Tube Box S2 the magic pill for the AT-LP120 that I hope it is?
Why Pro-Ject Tube Box S2?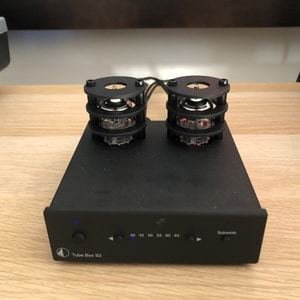 I did a lot on research on affordable tube phono preamp about a year ago when I was looking for a quality preamp for my turntables.
What I found was that the Pro-Ject Tube Box S2 seems to be the cheapest tube phono that get really good reviews from the vinyl community and owners.
I also reviewed several cheaper and popular options, like the Little Bear T7 and the Bellari VP-130.
But I never found evidence that these are high quality and good sounding preamps. They might very well be. But I was never convinced. In my research, I found mixed experiences with these. Some positive. But many negative as well.
The story was very different for the Pro-Ject Tube Box S and S2. For these, I found a lot of praise and very little negativity.
My conclusion was that a Pro-Ject Tube Box S2 is the cheapest tube phono preamp I would consider for my money. I was looking for quality and was uncertain if that could be found more cheaply.
You can read all about my research in my Pros and Cons of Tube Phono Preamps article.
At that time, I finally chose to buy a Rega Fono Mini A2D solid-state preamp for less than half the price of the Tube Box S2.
And I put the purchase of a tube phono preamp on hold.
I had a $200 budget and couldn't really find any good tube options for that money.
But now, a year later, I have finally pulled the trigger on a Pro-Ject Tube Box S2. Which we will review with my AT-LP120 in a second.
Below is a great video review of the Pro-Ject Tube Box S where Techmoan saves his vinyl sound with this tube phono preamp. (NB! This is the S, not the S2.)
My essential view on phono preamp is that you can find one that sounds very good for less than $200 if you buy a transistor based solid-state phono preamp. A solid-state phono preamp is a simple design and doesn't need to cost more than that to include essential components of high quality.
There are limited options for a solid-state phono preamp to have a lot of soul and character in my opinion. It is basically an electronic filter and voltage amplifier that is built with a few transistors (or op-amps) and capacitors. It can't really impact the color of the sound that much.
For tube phono preamps, this is a very different story. Tubes can add a lot of soul and character. The design becomes more complex when tubes are added to the circuitry. Tubes are also expensive components compared to transistors and op-amps. Which, most likely, are the reasons why quality tube phono preamps need to cost more than quality solid-state phono preamps.
I believe the extra cost involved in buying a quality tube phono preamp is justifiable.
My Audio-Technica AT-LP120
When I first bought my AT-LP120 I wasn't totally happy with it. I thought the sound was a bit boxed-in and lifeless. So I very quickly upgraded my turntable to a Rega Planar 2.
A bit later I started thinking that I might have dismissed the AT-LP120 too fast. I wondered if it could be possible to take it to the next level with a better cartridge and a few other mods.
And it absolutely is.
I have done a few mods and upgrades to my AT-LP120 since then. I have upgraded the cartridge, removed the built-in preamp and tried different mats. Just click on the links if you want to check out my articles and recommendations on these topics.
The upgrade I highly recommend, if you are looking to take your AT-LP120 to the next level, is to upgrade the cartridge. I did a lot of research on this while back and finally chose a VM540ML cartridge. The VM540ML replaces the very popular AT440ML cartridge that has been a go-to cartridge upgrade for AT-LP120 enthusiasts for ages. And the VM540ML cartridge really made my AT-LP120 come to live.
My AT-LP120 is now I very decent sounding turntable in my ears. I absolutely dismissed it too fast, initially.
Review: AT-LP120 and Tube Box S2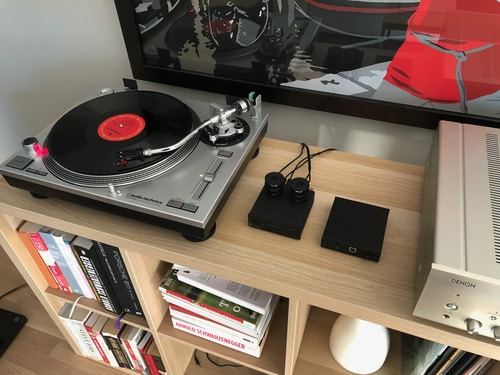 In my testing, I compared the Pro-Ject Tube Box S2 to my Rega Fono Mini A2D. I believe the Rega Fono Mini A2D is the best solid-state preamp you can buy for about $200 and a perfect preamp to compare the Pro-Ject Tube Box S2 against.
What I experienced is that the two preamps sound different in two noticeable ways.
The Tube Box S2 sounds noticeable warmer in the midrange. When I played Dark Side of the Moon by Pink Floyd, which I have always seen as a quite harsh sounding recording, the Tube Box S2 managed to smoothen the sound and make the recording more pleasant to listen to. Exactly what I wanted a tube preamp to do. Perfect!
The other noticeable difference is that the bass is slightly lower in volume with the Tube Box S2. This was expected as the Rega Fono Mini A2D has a bit bloated bass compared to any other preamp I have tested. So the frequency response seems more neutral with the Tube Box S2 in the lower end. Which is probably a good thing.
They are both great sounding preamps. But I will definitely use the Pro-Ject Tube Box S2 from now. The smoother and warmer sounding mid-range is exactly what I was looking for. I really love that characteristic.
When it comes to noise and hum the Pro-Ject Tube Box S2 is dead silent in my ears. No problems there.
Conclusion
If you are like me and fancy a smooth, pleasant and warm sound, then I think the Pro-Ject Tube Box S2 is a good investment. It absolutely has the characteristics I was looking for in a tube phono preamp.
Click here if you want to check the current Tube Box S2 pricing on Amazon.
It probably pushes the boundaries for what you want to spend on a preamp for the AT-LP120. It is significant money, but in the world of quality tube phono preamps, it is still on the affordable side of the spectrum. Personally, I had to think about buying the Pro-Ject Tube Box S2 for about a year before I pulled the trigger.
If you desire to make your AT-LP120 sound up to its full potential, I think a VM540ML cartridge upgrade should be your first investment. After that, a tube phono preamp like the Pro-Ject Tube Box S2 is a great investment to extract even more magic from your vinyl collection.